Submitted by
events
on Sun, 08/02/2020 - 4:36pm
Please join us for an ONLINE conversation with Santa Barbara's own Fred Nadis as he discusses his book Star Settlers with Dr. Jatila Van Der Veen.
To register for the event, click herehttps://us02web.zoom.us/meeting/register/tZMrc-ChqzwrE9Jc2T1LdZUIAf6ySYQXKY-K
Does humanity have a destiny "in the stars?" Should a species triggering massive extinctions on its own planet, instead stay put? While millions of people take interest in space exploration and astronomical discoveries, a smaller group including many elite scientists, technologists, science fiction enthusiasts, and billionaires believe that humanity's ultimate purpose is to populate the stars. Star Settlerstraces the waxing and waning of interest in space settlement through the decades, and offer a journalistic tour through the influential subculture attempting to shape a multiplanetary future. What motivates figures such as billionaires Elon Musk and Yuri Milner? How important have science fiction authors and filmmakers been in stirring enthusiasm for actual space exploration and settlement? Is there a coherent motivating philosophy and ethic behind the spacefaring dream?
Science journalist Nadis delivers a thought-provoking look at the scientists, space fans, and industrialists determined to settle humanity among the stars. . . With this grounded but far-reaching treatise, Nadis introduces readers to some fascinating dreams of the future.
--Publishers Weekly
In his third book, Nadis merges space science and technology in an intermittently fascinating exploration of the human quest to mine extraterrestrial lands for habitation . . . Nadis stresses that what was once considered "fringe thought" has now become a cosmic race very much in the mainstream. Citing journals, exhibits, academic texts, and interviews with space innovators and other experts, the author provides a solid, sometimes wondrous introduction to a field that is just beginning to show signs of promise. . . A futuristic, optimistic, and intellectually stimulating report for space enthusiasts or readers with celestial wanderlust.
--Kirkus Reviews
Fred Nadis is a historianand essayist with a Ph.D. in American Studies from the University of Texas at Austin. In 2019,he was awarded an Alfred P. Sloan Fellowship in the "Public Understanding of Science and Technology" program to complete Star Settlers: The Billionaires, Geniuses, and Crazed Visionaries Out to Conquer the Universe. His previous book, Man from Mars: Ray Palmer's Amazing Pulp Journey, a biography of a golden age science fiction editor, was a Locus Nonfiction Award Finalist in 2014. He also has published essays and stories in the Atlantic, Vanity Fair online, Astronomy, Lady Churchill's Rosebud Wristlet, Tony Oursler's Imponderable, and other venues. He's lived in Santa Barbara since 2005.
Event date:
Wednesday, August 19, 2020 - 6:00pm

$27.95
ISBN: 9781643134482
Availability: On Our Shelves Now - Please call to confirm stock for hot titles
Published: Pegasus Books - August 4th, 2020
---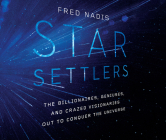 Email info@chaucersbooks.com or call (805) 682-6787 for price
ISBN: 9781640914636
Availability: May Be Available From the Publisher
Published: Oasis Audio - August 4th, 2020
---