Between Rock and a Hard Place: A Memoir (Paperback)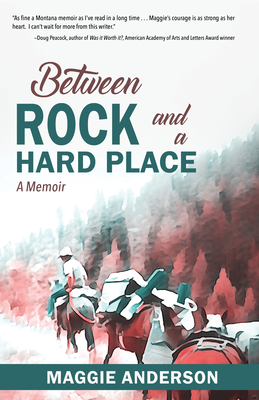 Description
---
This is a gripping and brutally honest memoir
of love and loss that will keep you on the edge of your seat from the first
page to the last.
-Elise Atchison, author of
Crazy
Mountain
.
The mountains of Montana are big and wild, as was their love, their life, and their struggle.

Maggie and Rock lived a big life, replete with backcountry horse camping deep into the mountains of Montana, snow boarding, farming and travel. When Rock is diagnosed with Parkinson's Disease, Maggie must learn how to care for him as his health fades and they seek alternative medical solutions. This is her first-hand account of living with that trauma, what methods they explored, what worked, and what didn't. It's also a story of profound love and loss with the power of adventure, wilderness and heartbreak. This is a brutally honest approach, and Anderson holds no punches when it comes time to express her true emotions in the face of great hardship.
This book shines a bright light on the power of being alive, and the strength it takes to support the people we love--through the good and the bad times.
About the Author
---
Maggie Anderson lives in a beautiful valley in Montana. She continues to hike with her dogs and explore the backcountry with her horse. She is thriving.