All Things Aside: Absolutely Correct Opinions (MP3 CD)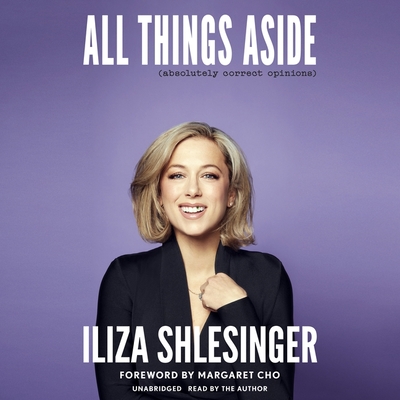 $31.95
This title is likely Out of Print or otherwise unavailable
Description
---
From the razor-sharp mind of comedian Iliza Shlesinger comes a collection of hilarious and insightful essays about the exasperating issues of everyday life.
All Things Aside is a punchy, honest, incisive book that shares a view of the world through the eyes of the inimitable Iliza Shlesinger. From the macro to micro, Shlesinger tackles it all with her no-bullshit comedic style.
Throughout the book, Shlesinger dives from one subject into the next, making her hilarious asides the basis of her stories, much like she does in her stand-up comedy. Topics range from dissecting social expectations to the notion that products marketed specifically to women are scams, and all manner of things in between. She even dares to ask herself the all-important question that every woman is forced to consider at some point--Am I actually an annoying person? Shlesinger also shares intimate moments, including a devastating miscarriage, which she manages to navigate not only with grace but somehow with side-splitting humor.
As Margaret Cho explains in the book's foreword, Every woman has something to gain from the Everywoman Iliza presents in her hilarious and astute worldview ... I've learned from Iliza] that you don't have to quit when you are in pain, that you can write your way out of the suffering. That there is beautiful truth to be unearthed from the depths of despair. That the stupid can be smart and that we put ourselves through hell for nothing.
All Things Aside offers unexpected insights, much-needed truths, and tons and tons of laughs.