Crisis: Cómo reaccionan los países en los momentos decisivos / Upheaval: Turning Points for Nations in Crisis (Hardcover)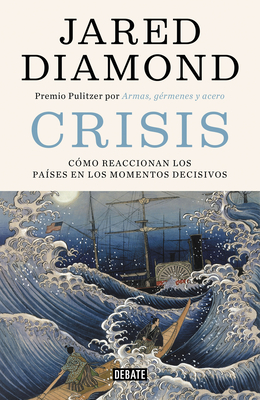 $25.95
This title is likely Out of Print or otherwise unavailable
Description
---
Jared Diamond culmina su trilogía con un sobrecogedor estudio de cómo las naciones más poderosas afrontan sus horas más oscuras.

En Armas, gérmenes y acero y en Colapso, Jared Diamond ya revolucionó nuestra visión del auge y la caída de las civilizaciones. Ahora, el autor concluye su sensacional trilogía adentrándose en una dimensión psicológica que complementa el impresionante universo histórico, geográfico y económico recogido en su obra.

El resultado es este revelador estudio comparativo de cómo seis países han sobrevivido en su historia reciente a crisis decisivas mediante un duro proceso de autoevaluación y transformación. Diamond identifica patrones en la superación de la adversidad y, dirigiendo su mirada hacia el futuro, plantea que quizás el mundo esté desperdiciando sus recursos y embarcándose en un viaje de conflicto político y declive. Una narración tan épica como irresistible.
 
ENGLISH DESCRIPTION

"A Bill Gates Summer Reading Pick
A ""riveting and illuminating"" (Yuval Noah Harari) new theory of how and why some nations recover from trauma and others don't, by the Pulitzer-Prize-winning author of the landmark bestsellers Guns, Germs, and Steel and Collapse.

In his international bestsellers Guns, Germs and Steel and Collapse, Jared Diamond transformed our understanding of what makes civilizations rise and fall. Now, in his third book in this monumental trilogy, he reveals how successful nations recover from crises while adopting selective changes -- a coping mechanism more commonly associated with individuals recovering from personal crises.

Diamond compares how six countries have survived recent upheavals -- ranging from the forced opening of Japan by U.S. Commodore Perry's fleet, to the Soviet Union's attack on Finland, to a murderous coup or countercoup in Chile and Indonesia, to the transformations of Germany and Austria after World War Two. Because Diamond has lived and spoken the language in five of these six countries, he can present gut-wrenching histories experienced firsthand. These nations coped, to varying degrees, through mechanisms such as acknowledgment of responsibility, painfully honest self-appraisal, and learning from models of other nations. Looking to the future, Diamond examines whether the United States, Japan, and the whole world are successfully coping with the grave crises they currently face. Can we learn from lessons of the past?

Adding a psychological dimension to the in-depth history, geography, biology, and anthropology that mark all of Diamond's books, Upheaval reveals factors influencing how both whole nations and individual people can respond to big challenges. The result is a book epic in scope, but also his most personal book yet."
About the Author
---
Jared Diamond es profesor de geografía en la Universidad de California en Los Ángeles. Comenzó su actividad científica en el campo de la fisiología, que después amplió a la biología evolutiva y la biogeografía. Ha sido elegido miembro de la Academia de Artes y Ciencias, de la Academia Nacional de Ciencias y de la Sociedad Filosófica de Estados Unidos, y ha recibido una beca de investigación de la Fundación MacArthur, además de los premios Burr de la Sociedad Geográfica Nacional y Pulitzer en 1998 por Armas, gérmenes y acero. Ha publicado más de seiscientos artículos en revistas especializadas como Discover, Natural History, Nature y Geo. Es autor de Colapso (Debate, 2006), ¿Por qué es divertido el sexo? (Debate, 2007), El tercer chimpancé (Debate, 2008), El mundo hasta ayer (Debate 2008) y Sociedades comparadas (Debate, 2016), grandes éxitos editoriales que además han obtenido numerosos galardones.