The Circus. 1870s-1950s (Hardcover)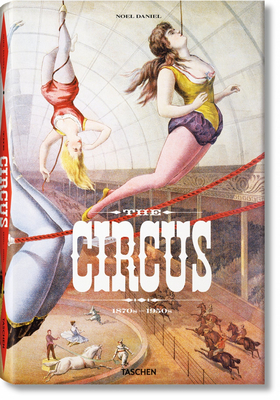 $70.00
This title is likely Out of Print or otherwise unavailable
Description
---
During its heyday, the American circus was the largest show-biz industry the world had ever seen. From the mid-1800s to mid-1900s, traveling American circuses performed for audiences of up to 14,000 per show and crisscrossed the country on 20,000 miles of railroad in one season alone. The spectacle of death-defying daredevils and strapping superheroes gripped the American imagination, outshining theater, comedy, and minstrel shows of the day, and ultimately paving the way for film and television. The circus offered young Americans the dream of adventure and reinvention.This book brings to life the grit and glamour of the circus phenomenon. Images include photographic gems by early circus photographers Frederick Whitman Glasier and Edward Kelty, many of the earliest color photographs ever taken of the circus from the 1940s and 1950s, iconic circus photographs by Mathew Brady or Cornell Capa, and little-known circus images by Stanley Kubrick and Charles and Ray Eames. For the first time, contemporary readers can experience the legend of the American circus in all its glory.
About the Author
---
About the authors:

Linda Granfield is a widely published author whose book "Circus: An Album" won six awards, including a place on the "Best of the Best" list by Chicago Public Library. Known for her clear and accessible writing, Granfield has penned many young adult publications as well as adult nonfiction books. She lives in Toronto, Canada.

San Francisco-based circus historian Dominique Jando has written five books on the circus, was associate artistic director of New York's Big Apple Circus 1983-2002, and director of the San Francisco School of Circus Arts 2003-04. He is also cofounder of Paris's world-famous circus arts competition, the Festival Mondial du Cirque de Demain.

About the contributing author:

Fred Dahlinger, Jr. from Baraboo, Wisconsin, is a circus historian and author of several books on the American circus.

About the editor:

TASCHEN editor Noel Daniel graduated from Princeton University, and studied in Berlin on a Fulbright Scholarship. She received a master's in London and was the director of a photography art gallery before becoming a book editor. Her TASCHEN books include "Magic 1400s-1950s "(2009) and "The Circus 1870-1950" (2008).