Holy Enemies of Freedom: How Martin Luther Unleashed the Beast of Anti-Semitism (Paperback)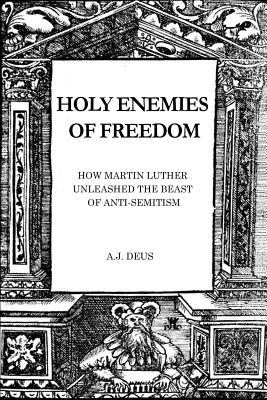 $29.99

Available from our Distributors - Usually arrives in-store in 2-7 days
Description
---
Holy Enemies of Freedom lays bare the criminal conspiracy that is unleashed upon ordinary people by organized religion.

The German Martin Luther was the founder of the Protestant Church. He wanted to throw the Jews out of Germany. In his time, the interactions between leaders of Jews, Christians, and Muslims fueled a march toward a religious world war. The promise of all organized Judaic religions was to eradicate false Truths and to establish a world ruler.

A.J. Deus presents his astonishing discoveries from primary evidence that has never before been placed in its historical context. The insanities of all contestants led toward the total destruction of Europe and the Middle East. The Rabbinic leadership set out to forge the unlikeliest alliances to reach the grand goal of dominance, helped finance the war efforts, and promised support with troops - on all sides.

This story unveils the origins of Martin Luther's as well as Adolf Hitler's anti-Semitism in frightening clarity: organized religion is nothing but organized crime. They are enemies of freedom. The oblivious disciples served as human shields for their leaders - Christians, Muslims, and ordinary Jews alike. The suffering of laymen was confirmation that the fulfillment of the promise to world leadership was near.
A.J. Deus has embarked with investigative and scholarly precision to answer a simple question about anti-Semitism:

Why?

The prognosis in Holy Enemies of Freedom is horrific. Humanity is facing a global emergency.

A next holocaust is in the making.

Editor's note: this is the Student Edition without extensive reprinted primary evidence in the footnotes. A separate Source Book or an Academic Edition with the reprinted primary evidence is available.