Breaking the News: Exposing the Establishment Media's Hidden Deals and Secret Corruption (Paperback)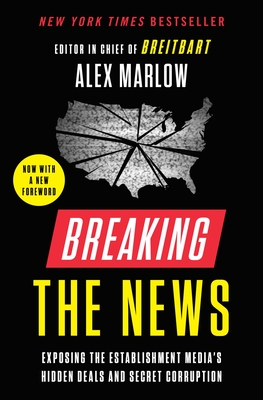 $18.99

Not Yet Published - Please check release date!
Description
---
From the editor in chief of Breitbart News, the New York Times bestselling "must-read" (Sean Hannity) investigation into how the establishment media became weaponized against Donald Trump and his supporters on behalf of the political left.

In this timely and "important book" (Glenn Beck), Marlow explains how the establishment press destroyed its own credibility with a relentless stream of "fake news" designed to smear Donald Trump and his supporters while advancing a leftist agenda. He also reveals key details on how our information gatekeepers truly operate and why America's "fake news" moment might never end.

Breitbart—and Trump—began banging the drum about "fake news" during the 2016 election, and it resonated with millions of voters because they intuitively knew the corporate media was willing to say or write anything to achieve their political ends. It's a battle cry that continues to this day. Deeply researched and eye-opening, Breaking the News rips back the curtain on the inner workings of how the establishment media weaponizes information to achieve their political and cultural ends.
About the Author
---
Alexander Marlow is editor in chief of Breitbart News Network, a position he has held since he was twenty-seven years old. He has been on the cover of Time and Newsweek, named in Forbes 30 Under 30, and called "perhaps the most significant media figure in America." He also hosts the flagship radio show Breitbart News Daily on SiriusXM's Patriot channel.