The Ultimate New York Knicks Trivia Book: A Collection of Amazing Trivia Quizzes and Fun Facts for Die-Hard Knickerbocker Fans! (Paperback)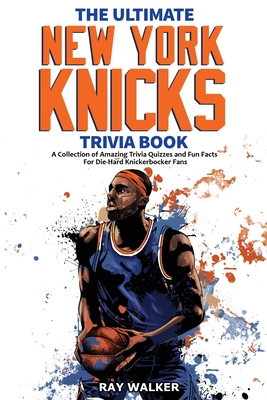 $11.90

Available from our Distributors - Usually arrives in-store in 2-7 days
Description
---
New York, New York...
Are you passionate about basketball? Do you consider yourself a die-hard fan of the New York Knicks? If so, you'll be excited to learn interesting, behind-the-scenes information and in-depth details about the team in a new publication, The Ultimate New York Knicks Trivia Book. The team and its fans have been around since before the NBA began, and over 75 years of Knicks history is packed into this book.
Within the pages, you'll discover:
How one Knicks icon only made the team because he got injured.
Which New York Knick won college football's Heisman Trophy.
How a father and son both played the same position for the Knicks, 40 years apart.
How the Knicks established themselves as a trailblazer in terms of racial equality.
The origin of nicknames like "Clyde," "Doc," "Grandmama," and "The Horse."
And so much more Test your memory of New York's big moments with dozens of true or false questions. Marvel at some of the craziest facts in Knicks' history with hundreds of entertaining "Did You Know" anecdotes. And take your best shot with carefully designed chapters full of multiple-choice possibilities.
From the foundation set by Ned Irish through the early formative days, Willis Reed limping onto the court, through the Patrick Ewing draft lottery, the bruising defensive system of Pat Riley, through the up-tempo style of Mike D'Antoni, and everything in between, it's all here for all ages to enjoy. Don't wait, grab a copy today and celebrate the Knicks in all their glory