The Museum of Human History (Paperback)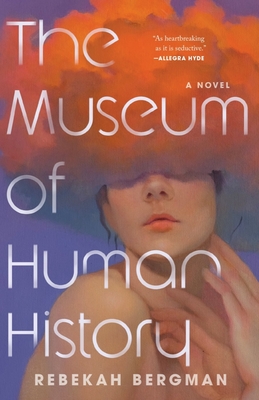 Description
---
"This daughter of Mary Shelley delights and excites the border between story and science."

—Samantha Hunt



"A novel about what we want and also what we can't escape."

—Allegra Hyde



"A haunting chord of a novel that will hang in the air long after you turn the final page."

—Tiffany Tsao



"Reads like a documentary retold as a dream retold as a mystery novel. What a wise, good-hearted debut!"

—Kate Bernheimer

After nearly drowning, eight-year-old Maeve Wilhelm falls into a strange comatose state. As years pass, it becomes clear that Maeve is not physically aging. A wide cast of characters finds themselves pulled toward Maeve, each believing that her mysterious "sleep" holds the answers to their life's most pressing questions: Kevin Marks, a museum owner obsessed with preservation; Monique Gray, a refugee and performance artist; Lionel Wilhelm, an entomologist who dreamed of being an astrophysicist; and Evangeline Wilhelm, Maeve's identical twin. As Maeve remains asleep, the characters grapple with a mysterious new technology and medical advances that promise to ease anxiety and end pain, but instead cause devastating side effects.
Weaving together speculative elements and classic fables, and exploring urgent issues from the opioid epidemic to the hazards of biotech to the obsession with self-improvement and remaining forever young, Rebekah Bergman's
The Museum of Human History
is a brilliant and fascinating novel about how time shapes us, asking what—if anything—we would be without it.
About the Author
---
Rebekah Bergman's fiction has been published in Joyland, Tin House, The Masters Review anthology, and other journals. She lives in Rhode Island with her family.
Praise For…
---
With melancholy imagination, Bergman elegantly tackles nothing less than the entire arc of human history. . . .  the novel blends fairy tale, philosophy, and shades of literary-futurist classics like Never Let Me Go.

— Kirkus Reviews, Starred Review

A startlingly assured debut. . . . Similar to Jennifer Egan's A Visit from the Goon Squad. . . . a tightly constructed, wonderfully written, utterly original, and astoundingly good novel.

— Booklist, Starred Review

[A] satisfying speculative debut.
— Publishers Weekly

Bergman is a master at bringing multiple characters to life.
— Wired

A Frankenstein-esque speculative novel for a youth-obsessed culture.
— NYLON, A Best Book of August

Takes you on an adventure somewhere just out of the periphery of your imagination.
— Shondaland

A haunting debut novel full of heartbreak and twisted science.
— The Philadelphia Inquirer

Impressive. . . . reminiscent of another literary fantasy icon Kevin Brockmeier, as the prose and the subtle interconnections between its characters rise to the level of sublime.
— Chicago Review of Books, A Must Read Book of August

Aches with grief & humanity & the beauty it's possible to find in the world, even if your vision has become crowded with loss. Astounding. . . . assured & deeply felt.
— Powell's, Powell's Pick Spotlight

Magical. . . . A haunting meditation on mortality and memory.
— Locus

Tells the story of a girl who falls into a dreamlike state for years, never aging as she does so, and explores the ways this affects the people around her and the larger world.
— Tor.com

Original and compelling.
— Necessary Fiction

A breathtaking and poignant story about pain, obsession, and the passage of time. . . . Bergman's lyrical prose and keen character insight infuse the novel with near-constant moments of emotional enlightenment.
— Shelf Awarenss, Starred Review

Winsome. . . .  a startling novel about memory, desire, and learning to age with grace.
— Foreward Reviews

A startling novel about memory, desire, and learning to age with grace. . . . Offers readers what we as individuals can rarely see on our own, the interconnectedness that hums between every human being.
— Denver Public Library

Rebekah Bergman's exploration of our strange biologies reads like the irresistible beating hands of time. This daughter of Mary Shelley delights and excites the border between story and science as she doles out questions that both haunt and expose our obsessions.
— Samantha Hunt, author of The Unwritten Book

In The Museum of Human History, Rebekah Bergman offers readers what we as individuals can rarely see on our own: the interconnectedness that hums between every human being, the high cost of painlessness and hard truths of our inevitable obsolesce. This is a novel about what we want and also what we can't escape—a story as heartbreaking as it is seductive.

— Allegra Hyde, author of Eleutheria

Rebekah Bergman's The Museum of Human History is one of the most agile novels I have read in a long time. It reads like a documentary retold as a dream retold as a mystery novel. What a wise, good-hearted debut!

— Kate Bernheimer, author of Fairy Tale Architecture

There are no static exhibits or neatly segmented timelines in Bergman's The Museum of Human History. Here, lives bleed into each other, echoing on decades, centuries, millennia after they end (if they end). A haunting chord of a novel that will hang in the air long after you turn the final page.

— Tiffany Tsao, author of The Majesties