Gullah Culture in America (Paperback)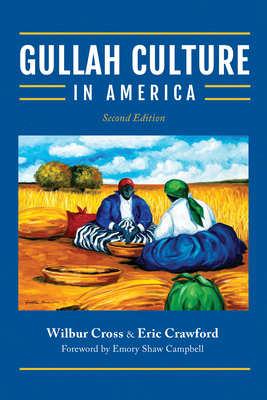 Description
---
A history of the rich culture of the Gullah people-a story of upheaval, endurance, and survival in the Lowcountry of the American South.
Gullah Culture in America chronicles the history and culture of the Gullah people, African Americans who live in the Lowcountry region of the American South. This book, written for the general public, chronicles the arrival of enslaved West Africans to the sea islands of South Carolina and Georgia; the melding of their African cultures, which created distinct creole language, cuisine, traditions, and arts; and the establishment of the Penn School, dedicated to education and support of the Gullah freedmen following the Civil War.
Original author Wilbur Cross, writing in 2008, describes the ongoing Gullah story: the preservation of the culture sheltered in a rural setting, the continued influence of the Penn School (now called the Penn Center) in preserving and documenting the Gullah Geechee cultures. Today, more than 300,000 Gullah people live in the remote areas of the sea islands of St. Helena, Edisto, Coosay, Ossabaw, Sapelo, Daufuskie, and Cumberland, their way of life endangered by overdevelopment in an increasingly popular tourist destination.
For the second edition of this popular book, Eric Crawford, Gullah Geechee scholar, has updated the text with new information and a fresh perspective on the Gullah Geechee culture.
About the Author
---
Dr. Eric Crawford, Editor, is a Gullah Geechee scholar and Associate Professor of Musicology at Claflin University in Orangeburg, South Carolina. He is the former director of the Joyner Institute for Gullah and African Diaspora Studies at Coastal Carolina University. He is the author of Gullah Spirituals: The Sound of Freedom and Protest in the South Carolina Sea Islands.Wilbur Cross was a graduate of Yale and spent 10 years as an editor at Life magazine and contributed many articles to Time and Life. He is the author or coauthor of more than 50 books, including Zeppelins of World War 1, Naval Battles and Heroes, and Presidential Courage. Cross lived on Hilton Head Island, South Carolina, until his death in 2019. Gullah Culture was his last book, published when he was 89.Born and raised on Hilton Head Island, Emory Shaw Campbell is executive director emeritus of the Penn Center and a renowned community leader among the Gullah people. In 2002, he founded Gullah Heritage Trail Tours in an effort to educate tourists about the Gullah language and culture and promote indigenous crafts and artists. He is the coauthor, with Thomas C. Barnwell Jr. and Carolyn Grant, of Gullah Days: Hilton Head Islanders Before the Bridge.