Headless John the Baptist Hitchhiking: Poems (Paperback)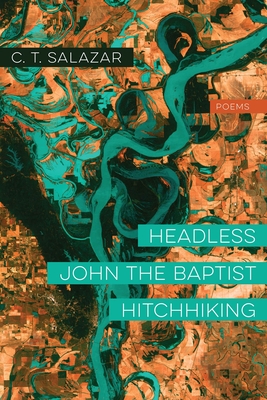 $16.00

Backordered to the Publisher - May not be immediately available! Contact us for more information.
Description
---
The coming-of-age chronicle of a queer Latinx Southerner.
 
In C. T. Salazar's striking debut poetry collection, the speaker is situated in the tradition of Southern literature but reimagines its terrain with an eye on the South's historic and ongoing violence. His restless relationship with religion ("a child told me there was a god / and because he was smiling, I believed him") eventually includes a reclamation of the language of belief in the name of desire. "I felt myself become gospel in your hands," the speaker tells his beloved. And, as the title poem asserts, a headless body "leaves more room for salvation."

Though Salazar's South is not a tender place, the book is a petition for tenderness, revealing in both place and people the possibilities for mercy, vulnerability, and wonder. The lyric I, as it creates an archive of experience, is not distanced from the poems' subjects or settings, but deeply enmeshed in a tangled world. In poems with lush diction, ranging from a sonnet crown to those that explore the full field of the page, Headless John the Baptist Hitchhiking seeks—and finds—where the divine resides: "Praise our hollow-bell bodies still ringing."
 
About the Author
---
C. T. Salazar is a Latinx poet and librarian from Mississippi. He is the 2020 recipient of the Mississippi Institute of Arts and Letters Award in poetry. He is the author of three chapbooks, and his poems have been published in the Rumpus, West Branch, Cincinnati Review, Beloit Poetry Journal, 32 Poems, Denver Quarterly Review, and elsewhere.
Praise For…
---
"An immense tenderness underlies Salazar's standout first collection. The poems probe the ever-presence of history, family, place, religion, and grief insisting on multidimensionality and the complicated ways the aforementioned entwine with us, for better and worse. . . . The collection left me thinking that perhaps everything lost—beliefs, people, strands of hair to a crow's nest—might be returned or found, though in altered form, and in this way survive. . . . A gorgeous, open-hearted debut."
— Library Journal, starred review

"C.T. Salazar calls his debut poetry collection 'the coming-of-age chronicle of a queer Latinx Southerner.' The book finds complexity, vulnerability, joy, and trauma in these identities, marveling at this striking juxtaposition. Salazar chronicles a tangled history with religion, as well as an enduring search for the spiritual and divine. Ultimately, Headless John the Baptist Hitchhiking beautifully argues that the divine can be found in everyday people."
— Read Poetry

"Having a title that conjures disquieting and curious imagery, C.T. Salazar's debut full-length collection of poems, Headless John the Baptist Hitchhiking, sparks interest in a reader before the book is even opened. To say that these poems are gorgeous is both an understatement and a simplification of what is contained within the pages. In Salazar's book, the reader is transported into a world encompassed with juxtaposition – harsh violence and decay against the hope of redemption and a hint of dream-like beauty. . . . Life is often cruel, and in Headless John the Baptist Hitchhiking, Salazar doesn't back away from this, but he gives us small glimpses of the ways life is also gentle. In this stunning debut, Salazar asks us to consider whether salvation is worth the sacrifice. He explores the idea of balancing dark with light. Yes, these are gorgeous poems that are often transcendent, and yes, they are wrapped in barbed wire, but they are worth returning to again and again."
— The Poetry Question

"In his first full-length collection of poems, titled Headless John the Baptist Hitchhiking, C.T. Salazar establishes his poetry within several distinct traditions—among them, the literature of the American South, the lyric mode, and the poetry of identity. The poems of this collection move simultaneously through a descriptive terrain and into emotional and spiritual inquiry."
— Mississippi Books Page

"In Headless John the Baptist Hitchhiking, C. T. Salazar crafts a personal mythology of biblical proportions. . . with Mississippi as the rural backdrop. . . . Through sonnets, contrapuntal poems, and expertly executed line breaks, Salazar reimagines sacred imagery. . . as well as perceptions of color and scale. . . . In these poems the Bible is not merely transposed into our modern life but is also a framework for a new and urgent awareness of faith, where faith is not what you believe but a way of reading the world. . . .What emerges is an understanding of the physical world as a living being full of spirit."
— Harriet Books

"C.T. Salazar has a way of pointing out the quietest moments and rendering them holy, especially in his latest poetry collection. . . . Headless John the Baptist Hitchhiking is a masterclass in power, both in its language and in its intimacy."
— Southern Review of Books

"Simply put, this book trains its reader to do what its writer does: it teaches us to leap. The poet gives us practice at hopscotching between sturdy landings, from the small outposts of home and belonging to the patches of certain ground where those who suffered and strived before us found their footing and dropped a pin."
— Plume

"Sonically decadent diction and striking imagery exemplify C. T. Salazar's debut, Headless John the Baptist Hitchhiking. In poems entrenched in religious and bucolic imagery, Salazar imagines a landscape that is both beautiful and mired in violence. As the poet writes, 'Mississippi / burns you last if it loves you.' Salazar, a resident of Mississippi, gives us a book of biblical characters, country, and the struggle to define faith."
— West Branch

"C. T. Salazar's debut collection, Headless John the Baptist Hitchhiking, reaches past the cliché of finding God in nature to look for religion in the natural world; and in it, he finds flashes of religious iconography and ritual abundant, if sometimes ambiguous in their implications. Earnestly searching his surroundings for keys and clues, Salazar makes a case for religion's necessity as a bridge for his speaker to better understand his world, even as religion, to this speaker, is necessarily inadequate and plagued by complications."
— Colorado Review

"Salazar's poetry deliberates on the spiritual experience of connection and desire. His debut full-length collection, Headless John the Baptist Hitchhiking focuses on the history of violence in the American South and how an individual's loss of faith in God could be reconciled by discovering the holiness of human connection."
— Oxford Review of Books