Bedtrick (Paperback)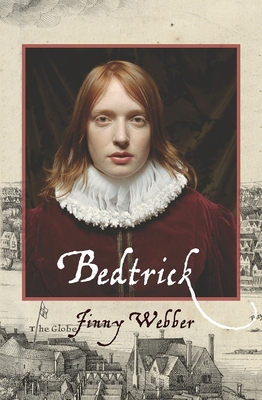 $17.00

On Our Shelves Now - Please call to confirm stock for hot titles
Description
---
Once a boy player in Shakespeare's company, Sander Cooke is now a hired man playing female roles. When Frances Field reveals she is pregnant by Sander's brother, Johnny, a fellow actor and aspiring playwright, Johnny makes it clear that marriage is not in his plans. But if Frances gives birth to a bastard, she'll lose her shop on London Bridge and her position as one of Queen Elizabeth's silkwomen. Sander would like to come to Frances' rescue: only Sander has a secret, kept both onstage and off – she is actually a woman.
Even their friend Moll Frith, who goes around blatantly as a man, wouldn't marry a woman, but she does find Sander and Frances a wayward, short-sighted priest to solemnize the union. It is a marriage of convenience, but can these two women make a true union of it?
Winding around this unconventional marriage, the London stage of the period comes alive, alongside political anxieties and rebellion, threats from the Spanish, troubles in Ireland, the plague, and the aging Queen Elizabeth's failure to name a successor.

About the Author
---
A longtime college teacher in California, Jinny Webber has always been fascinated by the vibrant theater and society of the Elizabethan era, and in particular its complicated gender roles on and off-stage. She has explored those themes in earlier novels The Secret Player and Dark Venus. Her short stories and essays have been published in Blood and Roses, Library Book: Writers on Libraries, Splickety Spark, and Greek Myths Revisited. Her plays include Dearly Begotten, a spin-off from Titus Andronicus, Qualities of Mercy, Queen Undaunted: Margaret of Anjou, and Bedtrick, based on the novel. She has acted in local productions of A Midsummer Night's Dream and Taming of the Shrew, and directed As You Like It and David Starkey's How Red the Fire.
Praise For…
---
"Steeped in the mores and events of the time Shakespeare's London, Bedtrick vibrates with contemporary resonance." —Paul Mason Barnes, Director, Great River Shakespeare Festival

"From its opening pages, Bedtrick envelopes us in its richly imagined world as we cheer for its genderbending hero, Sander Cooke, a character so complex and appealing surely Shakespeare himself would have envied Webber's creation." —David Starkey, author of What Just Happened

"… a behind-the-scenes look at London and Shakespeare's stage and company. Webber's choice of gendering Alexander Cooke cleverly provides a space to interrogate the gender and gender fluidity of the time." —Hardy Cook, Editor Emeritus, SHAKSPER

"Passion, sensuality, sexuality, and survival interwoven into a rollicking fine tale. Webber brings Shakespeare's era to life engaging us both on and off the stage." —E. Bonnie Lewis, Co-Artistic Director, DramaDogs

"…a wonderful read about the theatre and gender in London during the transition from Elizabeth I to James VI." —Mort Weisman, Emeritus Publisher, The Swallow Press