The Most Serious Fart (Hardcover)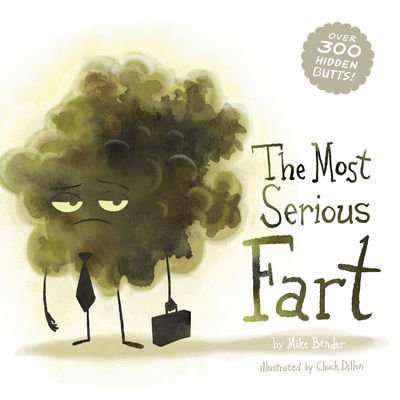 Description
---
The Most Serious Fart is a seriously fun children's illustrated picture book about not taking ourselves so seriously.
Meet Siegfried, a most serious fart who is sick and tired of farts being a laughing matter. When he sets out on a most serious mission to change the fart as we know it, he ends up learning to embrace his fartness and the fun and friendship that come with it. The book also includes over 300 hidden butts from legendary Highlights Hidden Pictures illustrator, Chuck Dillon.
***
"Hilarious and thought-provoking, with wonderful illustrations. I can't believe I'm saying this, but these farts are clever, funny and gorgeous." -Stuart Gibbs, author of New York Times bestselling series: Spy School, FunJungle, Charlie Thorne, Moon Base Alpha and The Last Musketeer.
"This book is a real gas " -Amy Sedaris
"I would've laughed myself silly as a kid reading this book. Also, full disclosure, I laughed myself silly as a grownup reading this book. A work of fart " -Brad Montague, creator of the hit web series Kid President, author of Becoming Better Grownups, and the New York Times bestsellers Kid President's Guide to Being Awesome and The Circles All Around Us.
"I must point out that obviously, I never fart. And certainly not in front of my boyfriend. But when I do, it's hilarious... just like this book." -Karen McCullah, screenwriter Ten Things I Hate About You, Legally Blonde
"This book is delightful. It's hilarious. The art is stunning. And, something I thought I'd never say about a book with a fart in the lead, it's got a wonderful message." -Brian Lynch, screenwriter The Secret Life of Pets, Minions, Puss in Boots, and Hop
"This book, like its subject matter, delivers the goods- funny, warm, and over 300 hidden butts ? Genius." - Jake Parker, illustrator of the New York Times bestselling The Astonishing Secret of Awesome Man and creator of Inktober.