Acrobaddict (Paperback)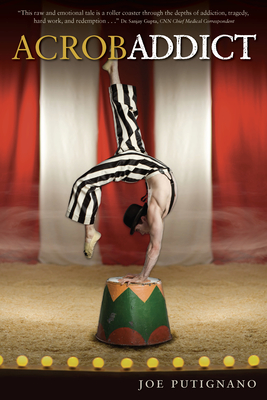 $17.95

Available from our Distributors - Usually arrives in-store in 2-7 days
Description
---
This raw and emotional tale is a roller coaster through the depths of addiction, tragedy, hard work, and redemption. It is proof that with hard work, anything is possible.--Sanjay Gupta, MD, CNN Chief Medical Correspondent
Follow Joe Putignano on a harrowing journey from the US Olympic Training Center to homeless shelters to shooting heroin on the job to being declared dead. This story goes beyond addiction. It is about the fragility and tenacity of the human spirit and how that spirit can redeem each and every one of us by helping to push us through the darkness, whether the darkness is from death, divorce, or the disease of addiction.
Acrobaddict is a story about the close relationship between athletics and drug addiction--how the same energy, obsession, and dedication that can create an Olympic athlete can also create a homeless drug addict.
About the Author
---
Joe Putignano is a performing artist and contortionist who has toured with Cirque du Soleil. He was the star of the Cirque show, Totem. He has performed in The Times They Are A-Changin' by Twyla Tharp and in a number of stage productions with the Metropolitan Opera. He was a competitor at the Junior Olympics National Championships, and since 1987 he has won numerous state and regional championships. Putignano has also appeared on various TV shows and has modeled for many magazines.