A Global Warming Primer: Answering Your Questions About The Science, The Consequences, and The Solutions (Paperback)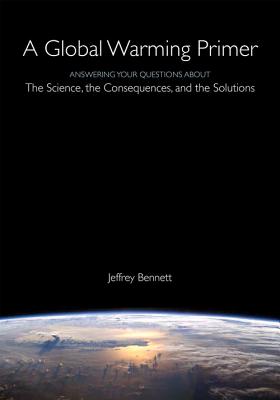 $15.00
This title is likely Out of Print or otherwise unavailable
Description
---
Winner:
2017 NSTA, Outstanding Science Trade Books
2017 Children's Book Council, Best STEM Books
Nautilus Book Award, Silver, Ecology and Environment

Is human-induced global warming a real threat to our future? Most people will express an opinion on this question, but relatively few can back their opinions with solid evidence. Many times we've even heard pundits say "I am not a scientist" to avoid the issue altogether. But the truth is, the basic science is not that difficult. Using a question and answer format, this book will help readers achieve three major goals: To see that anyone can understand the basic science of global warming;  To understand the arguments about this issue made by skeptics, so that readers will be able to decide for themselves what to believe; To understand why, despite the "gloom and doom" that often surrounds this topic, the solutions are ones that will not only protect the world for our children and grandchildren, but that will actually lead us to a stronger economy with energy that is cheaper, cleaner, and more abundant than the energy we use today.
About the Author
---
Jeffrey Bennett has been teaching and writing about global warming for more than 30 years. He holds a B.A. in Biophysics (University of California, San Diego) and an M.S. and Ph.D. in Astrophysics (University of Colorado). He is the author of critically acclaimed books including Beyond UFOs, Math for Life, What is Relativity?, and On Teaching Science. His six books for children have all been selected for launch to the International Space Station for NASA's new "Story Time From Space" program; along with one previous book of his that went into space, this makes him the only author ever to have had seven books launched into orbit.
Praise For…
---
"Bennett's careful and question-by-question presentation will lead any fair-minded person to see the warming issue more clearly and increase understanding of the need for concern about current developments." —Hon. George P. Shultz, Hoover Institution, Secretary of State under President Ronald Reagan 

"Jeffrey Bennett has done what many others have been unable to do: He has made climate science understandable." —Gov. Bill Ritter, Jr. (Colorado), author, Powering Forward 

"In engaging, accessible, and accurate prose, Jeffrey Bennett clearly explains the science of climate change, ending with a thoughtful exploration of ways to solve the problems it poses for our future." —Ann Reid, Executive Director, National Center for Science Education 

"This delightfully perceptive book is a must-read for everyone concerned about our future." —William Gail, President (2014), American Meteorological Society 

"This book offers us just we need right now: clarity.  I wish everyone in the world would pause and read this book." —Dr. Michelle Thaller, Astronomer, TEDx speaker 

"This great book sorts out the science from the belief on both sides of the debate." —Piers Forster, IPCC Lead Author and Director, Priestley International Centre for Climate, University of Leeds, UK 

"A friendly yet authoritative look at how we know what we know about the climate, and why we need to do something about it." —Carl Zimmer, author, Evolution: Making Sense of Life 

"Concise, crystal clear, packed with the best available information—this is the book to grab if you want to be well informed about climate change." —Spencer Weart, author, The Discovery of Global Warming 

"For anyone who doubts the reality of the threat, this is the book to read." —Kimbal Musk, Entrepreneur, Venture Capitalist, Co-Founder, The Kitchen 

"If you don't know what to think about climate change – or even if you do – this is the one book to read." —Seth Shostak, SETI Institute; host, Big Picture Science