51st State? (Scribe Short Books) (Paperback)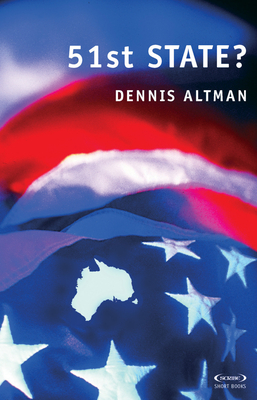 $14.95
This title is likely Out of Print or otherwise unavailable
Description
---
Australian prime ministers since Harold Holt have all fostered close relationships with the United States, but John Howard has initiated economic and military policies that have bound the two countries even tighter. As a result, many Australians now believe that not only our sovereignty but also our very identity as a nation is under threat, and that we are fast becoming America's 51st state.
If this view is correct, it should be reflected not only in our foreign policy but also in our domestic policies. Indeed, the weakening of social safety nets, the privatisation of areas long seen as government responsibilities, and the signing of the Free Trade Agreement all point to the triumph of US-style neo-liberalism.
Yet, as Dennis Altman shows, the story is not so simple. Even as official rhetoric immerses us ever deeper into the US worldview, the resilience of the Australian social contract is imposing real limits on the application of neo-liberal principles. And, despite his enthusiastic membership of the coalition of the willing, Howard has assiduously cultivated economic and political ties within our region which, as the global balance of power shifts, will become increasingly relevant.
In this elegant and sophisticated meditation on Australian identity, Altman suggests that the tendency to attribute malign American influence to everything we dislike about the contemporary world is the flipside of seeing the US as the only model worthy of emulation, and serves to conceal the deeper questions we face namely, how does Australia imagine its future?
About the Author
---
Dennis Altman has taught at Harvard University, La Trobe University, the University of Chicago, and New York University. He has served on a range of international committees and was president of the AIDS Society of Asia and the Pacific for four years. He is the author of 11 books, including Defying Gravity, Global Sex, and Gore Vidal's America.
Praise For…
---
"Logical and moderate in tonea break from the often over-heated commentary which marks the battleground between Australian conservative commentators and leftish intellectuals."  David Costello, The Courier Mail

"A thoughtful and informed guide to our own successes and shortcomings and necessary reading for those trying to sort out a positive future relationship with America."  John Button, The Age  

"Will encourage real thought about our relations with the U.S. rather than juvenile exchanges of insults. And maybe it will encourage us to accept responsibility to find our own way, rather than moan about the influence of the Americans."  Michael Costello, The Australian

"If you want to understand where Australia stands at the beginning of the twenty-first century and where it is heading, then 51st State? is a must read."  Bookseller & Publisher

"Poses many questions, provides some answers, and gives food for thought to the reader, as any good essayist should."  Michael Ashby, Eureka Street