Sight, Smell, Touch, Taste, Sound: A New Way to Cook (Hardcover)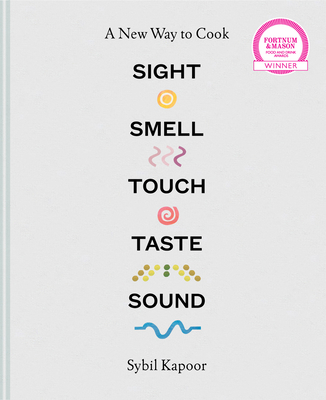 $35.00
On Our Shelves Now - Please call to confirm stock for hot titles
Description
---
Essential reading for anyone who loves to cook, Sybil Kapoor leads the reader through simplified kitchen theory, and more than 125 recipes reveal how we can unlock the power of our five senses to make amazing meals.

Underlying any recipe are five fundamental elements that form the five chapters of the book: Taste, Flavor (smell), Texture (touch and sound), Temperature (touch), and Appearance. Integral to our experience of eating, these are the building blocks of cookery throughout the world, whether you are making lemon pickle in India or porridge in Scotland. This book explains how these five elements work together, and shows the reader how best to use them in everyday cooking to produce simple, delicious dishes.

The book is designed so that the reader first understands a little theory and then learns by cooking the recipes, and conducting the easy, practical tests suggested throughout. Carefully cross-referenced, the recipes ensure a good breadth of ideas for the domestic cook, ranging from Persian Sour Lentil Soup and Blackened Salmon with Pineapple Salsa to Mint Julep and Chili Marmalade. Refine your understanding of multi-sensory cooking and you will find that your kitchen prowess knows no bounds.
About the Author
---
Sybil Kapoor is one of Britain's most respected food writers. The author of eight books, she began her career as a chef in London and New York and has won six national awards for her books, cookery writing, food journalism and broadcasting, including two prestigious Glenfiddich Awards, two Michael Smith Awards from the Guild of Food Writers for work on British food, the Fortnum & Mason's Food & Drink Awards for Food Writer of the Year 2015 and in 2019, her book Sight Smell Touch Taste Sound won in the 'Cookery Book of the Year' category at the Fortnum & Mason Food & Drink Awards.
Her features have appeared in the Guardian, the Sunday Times, and the Financial Times, among others. Her bestselling books include Modern British Food and Taste: A New Way to Cook. She contributes to The Economist's 1843 Magazine, House & Garden, and the award-winning Borough Market Market Life magazine.