A Nation Again: Why Independence will be Good for Scotland (and England too) (Viewpoints #6) (Paperback)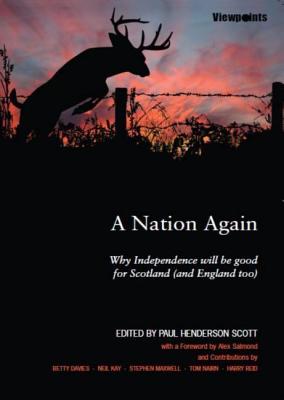 $15.95
This title is likely Out of Print or otherwise unavailable
Other Books in Series
This is book number 6 in the Viewpoints series.
Description
---
As the Scottish people prepare for their biggest ever collective decision with a proposed referendum near at hand, The Independence Book forcefully sets out the Case for Independence. The Imperative of Independence is demonstrated by varied distinguished authors, including contributions from Neil Kay, Tom Nairn and Betty Davies. Each author tackles the subject in a different way - personal, political, historical or academic - but the key denominator is clear: Independence Must Come. BACK COVER:If you believe in the Case for Independence, this book will provide you with a stirring endorsement of your view. If you are sceptical, it might well persuade you to convert to the cause. If you are downright hostile, this book could be dangeroud - it could prompt you to rethink.Suddenly Scottish Independence is within grasp. Is this a frivolous pipedream, a romantic illusion? Or is it, as the writers of this dynamic and positive collection of essays insist, an authentic political option, feasible and beneficial?As the Scottish people prepare for their biggest ever collective decision, this book forcefully sets out the Case for Independence. The distinguished authors, from a variety of different perspectives, argue the acase for the Imperative of Independence.The case is made in various styles - personal, political, academic, historical, philosophical. But the key denominator is clear - Independence Must Come: it will be good for Scotland (and England too).REVIEWS:If anyone were to ask me if there's a handy wee book which effectively argues the case for Scottish independence and, just as importantly, counters the main Unionist objections, then this is the book I'd recommend. It does what it says on the tin.
About the Author
---
STEPHEN MAXWELL was active in the debate on Scotland's political future for four decades. A native of Edinburgh, he studied at the universities of Cambridge and the London School of Economics before teaching and researching in international politics at the universities of Sussex and Edinburgh and at the International Institute for Strategic Studies, London. He was the SNP's national press officer between 1973 and 1977 and subsequently a Lothian Regional Councillor and director of the SNP's campaign for a Yes vote in the 1979 Scottish Assembly referendum. Until October 2009 he was Associate Director of the Scottish Council for Voluntary Organisations.Paul Henderson Scott is a former diplomat and has been Rector of Dundee University, President of the Saltire Society and Spokesman for the SNP on Culture and International Affairs. He has written over 15 books, including his autobiography A Twentieth Century Life.Betty Davies was born in Nottinghamshire. She graduated from the Guildhall School of Music and Drama in the '60s and worked for a short time in television and theatre. In 1993, together with the late Douglas Henderson, one of the driving forces for Scottish independence and SNP MP for East Aberdeenshire, she founded the successful design and management organisation Scottish Fashion International. During most of her lifetime Betty Davies has remained mute on her political allegiance.Neil Kay has Bachelors and Doctorate degrees from Stirling and is Professor (Emeritus) Economics Dept., University of Strathclyde; Special Professor in the Business School, University of Nottingham; and was Visiting Professor Economics Department, University of Queensland, Australia, 2006, 2006 and 2007. He has also held two Visiting Associate Professorships in the University of California and a part-time Professorship in the Economics Department in the EC's official university in Florence.Tom Nairn, after serving time on the hulk of HMS Britain, escaped to teaching 'Nationalism Studies' at Edinburgh University, then to researching 'Globalisation and Nationalism' at the Royal Melbourne Institute of Technology in Victoria, Australia. His book The Break-up of Britain appeared in 1977 (Verso Books, most recent edition Common Ground Publishing, Melbourne, 2003). Faces of Nationalism (Verso) appeared in 1997 and Global Matrix (Pluto Press, with Paul James) in 2005.