No More Secrets: My part in codebreaking at Bletchley Park and the Pentagon (Paperback)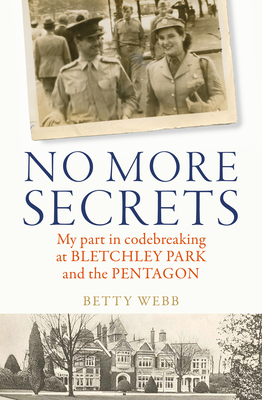 $16.99

Available from our Distributors - Usually arrives in-store in 2-7 days
Description
---
The incredible true story of the only woman to have worked during the Second World War as a codebreaker at both Bletchley Park and the Pentagon

Betty Webb is the only surviving codebreaker to have worked on both Nazi and Japanese codes at Bletchley Park during the Second World War. This is the tale of her extraordinary life. Between 1941 and 1945 Betty Webb played a vital role in the top-secret efforts being made to decipher the secret communications of the Germans and later the Japanese.

In 1945, as other members of the forces returned home from the war in Europe, she was sent to the Pentagon and was in Washington DC when the atomic bombs fell and when Eisenhower announced the end of the war. Betty was unable to reveal the true nature of her work, even to her parents, until years later.

In this fascinating book, she revisits the key moments of her life and recounts the incredible stories from her time at Bletchley Park.
About the Author
---
Betty Webb MBE, Légion d'honneur, is a one-hundred-year-old veteran who served at Bletchley Park and the Pentagon in the US during the Second World War. She was married and lives in London.