Emergency Food Supply: The Essential Guide for Family Preparedness to Organizing, Preserving and Cooking Healthy Foods, to Build a Stockpile (Paperback)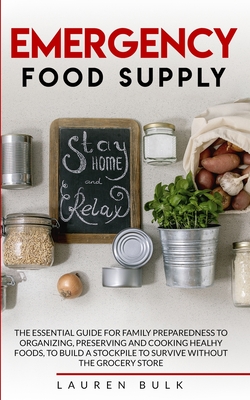 Likely Out of Print, but possibly available from the Publisher. Call for more info
Description
---
Do you want an essential guide for family preparedness to organizing, preserving and cooking healthy foods, to build a stockpile to survive without the grocery store.? If yes, then keep reading...
Sometimes, it goes without saying "Prevention is better than cure." It is indeed, true. When you have planned what to do, it makes things easier for you to organize your resources. Please bear in mind that it's always better to have it, even if you don't need it, than to need it, but you totally don't have it. Emergencies always happen every time we don't expect them.
There are things that we need to consider in starting our emergency food pantry. Consider the shelf life of the food; you don't want to end up eating a rotten or spoiled food in order to survive right? You also need consider that the stored food you have is enough to sustain your entire family; you don't want to see their hungry faces during these situations, do you? On top of that, it is a must to consider what to store, how to store it, and how much you do need to store.
Short term emergencies are those emergencies that last at least a day up to a couple of weeks. Planning for such emergencies is not as meticulous as planning for long term ones.
Water and food storage during this type of emergencies should be quickly accessed. Find food and water that can supply you and your family with enough energy for several days. Bear in mind that a person needs a gallon of drinking water each and every day. Water should never be compromised at any times. A certain individual can last a maximum of ten days without drinking water, starting at 26˚ Celsius; your life span decreases a day every time the temperature increases by 5 degrees. You don't want to see your family slowly dying just because of thirst or dehydration.
Medium term emergencies are those, which can last from three weeks to three months. These types of emergencies where food and water supply can be interrupted for various reasons. Hurricane Katrina is one perfect example of emergency where roads are inaccessible, thus making it hard for relief goods to enter the community.
When you are preparing for emergency situations, try to gather foods that are part of your daily diet. These should not be all canned goods. You can purchase cases of water, grains, cereals, beans and powdered milk. You may start buying some of these items weekly until you finally reach your goal.
Long term emergencies are those types of emergencies that could last from few months to a year. These types of emergencies may happen less often, but it is still better to be prepared just in case it might occur.
Long term food supplies can be a mixture of canned goods and low moisture foods that can last for several of months or years. Be sure though, that you get all the nutrients you need during the whole duration of the emergency.
This book covers the following topics:
What a Healthy Diet Should Include
What Foods Should Buy
Foods To Stockpile
Shelf Stable Foods
Bulk Foods And How To Store Them
Superfoods
.... And Much More