Macramè: The easy macramè book for beginners; 35 easy, modern, patterns and projects, illustrated step-by-step to make your bea (Paperback)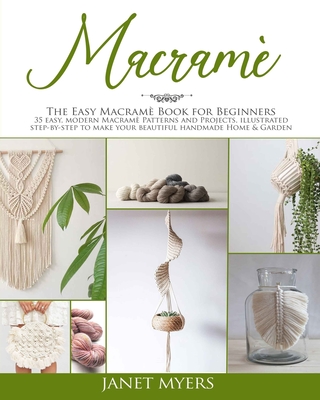 $20.00
Available from our Distributors - Usually arrives in-store in 2-7 days
Description
---
IF YOU ARE CURIOUS TO SEE HOW YOU CAN CREATE MACRAM MODELS, EVEN IF YOU START FROM 0, THEN WATCH THE VIDEO REVIEW ON AMAZON
ARE YOU LOOKING FOR A HOBBY WHERE YOU CAN CREATE BEAUTIFUL DESIGNS?
The craft known as Macrame dates back to 500 B.C; where the Persians and the Syrians where using to make their own clothes. In the 13th century it arrived in Spain.
In the late 17th century, Macrame was introduced in England.
During the 19th century it became fashionable in the British and American world. All kinds of necklaces with glass beads, hammocks, bell fringes and belts were made.
In this complete GUIDE, you will find step-by-step processes such as how to create your own macram patterns and projects as well as learn many more techniques Everything is explained in-depth, with pictures, so in no time you will be able to start creating your MACRAME' projects.
In the Macram by Janet Myers, you'll discover:
How to improve your mental ability
How to create beautiful designs for the home or garden
Understand the history behind Macram
The tools and materials needed to prepare you to become a macram master
Step-By-Step Instructions For Mastering All The Beginner Knots and Techniques
Materials You Should Use in Macram (Don't Start a Project Before Reading This)
In-depth Step-by-Step Instructions to Make your First Macram project
How to decrease your stress level
Today, of course, Macram is used by people who want to create something that is durable and beautiful.
This book is best for:
Everyone who wants to start creating beautiful Macram patterns and projects for your Home & Garden
People who want decrease their stress level
Everyone who wants to give a useful gift to family or friends
Would You Like To Know More?
SCROLL UP
to the top of the page and click on
"BUY NOW WITH 1-CLICK"
, and
START CREATING MACRAM PATTERNS FOR YOUR HOME
Get Your Copy NOW