Trials of the Mortal Realm (Warhammer: Age of Sigmar) (Paperback)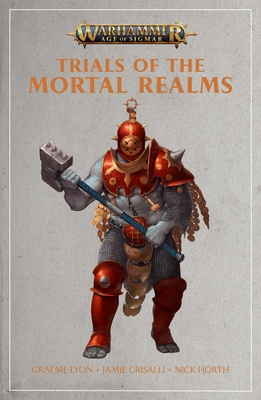 $16.00
This title is likely Out of Print or otherwise unavailable
Description
---
A fantastic collection of action packed stories from the Age of Sigmar universe.

The Mortal Realms are in turmoil. Torn apart by the ravages of Chaos and the arcane abomination of Nagash's Necroquake, the lands reel from the power of the gods. Civilisation lies in ruins. Yet, beneath this devastation, the Mortal Realms hide treasures beyond belief. In Chamon, a Kharadron admiral hunts for the fallen sky-port of Barak-Zhoff. Deep in the wastes of the Eightpoints, the warrior-smiths of the Iron Golems seek a weapon worthy of Archaon. And in Shyish, a masterful thief breaks into the afterlife itself, searching for an artefact of unknown power. Treasures abound if one is foolish enough to brave their resting places. For in the Age of Sigmar, nothing lost is so easily found, and each fortune carries with it a deadly trial.
About the Author
---
Nick Horth is the author of the novels City of Secrets and Callis and Toll: The Silver Shard, the novellas Heart of Winter and Thieves' Paradise, and several short stories for Age of Sigmar. Nick works as a background writer for Games Workshop, crafting the worlds of Warhammer Age of Sigmar and Warhammer 40,000. He lives in Nottingham, UK.

Jamie Crisalli writes gritty melodrama and bloody combat. Fascinated with skulls, rivets and general gloominess, when she was introduced to the Warhammer universes, it was a natural fit. Her work for Black Library includes the short stories 'Ties of Blood' and 'The Serpent's Bargain', and the forthcoming Age of Sigmar novella The Measure of Iron. She has accumulated a frightful amount of monsters, ordnance and tiny soldiery over the years, not to mention books and role-playing games. Currently, she lives with her husband in a land of endless grey drizzle.

Graeme Lyon is the author of the Age of Sigmar novella Code of the Skies and the Space Marine Battles novella Armour of Faith. He has also written a host of Warhammer 40,000, Warhammer Age of Sigmar and Warhammer short stories including 'The Carnac Campaign: Sky Hunter', 'Kor'sarro Khan: Huntmaster', 'Black Iron', 'The Eighth Victory', 'The Sacrifice' and 'Bride of Khaine'. He hails from East Kilbride in Scotland.