Elves (Warhammer Chronicles) (Paperback)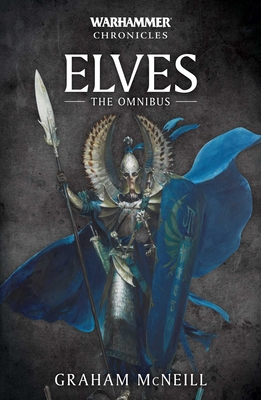 $21.00

On Our Shelves Now - Please call to confirm stock for hot titles
Description
---
Bumper omnibus of classic Warhammer Elves stories.

From the Gemmell award-winning writer Graham McNeill comes a grand saga of magic, treachery and elves...

The elves are a mysterious and magical race, best on all sides by war. Blessed with exceptionally long life, but cursed by the mistakes of their ancestors, high elves and wood elves alike must defend their realms from those who would seek to destroy them.

In Defenders of Ulthuran and Sons of Ellyrion, Ulthuran comes under attack from an alliance of the traitorous dark elves and Chaos-corrupted Norscans. As the great heroes of the high elves – Tyrion, Teclis and Eltharion among them - rally their armies, the fate of the land lies in the hands of Eldain and Caelir, brothers separated by fate and treachery.

In Guardians of the Forest, the noble Bretonnian knight Leofric is thrown into an uneasy alliance with the wood elves as they battle a plot by monstrous beastmen to corrupt the sacred groves of Athel Loren that threatens not only the forest, but all of Bretonnia.

This Omnibus edition also contains three short stories.

About the Author
---
Graham McNeill has written many Horus Heresy novels, including The Crimson King, Vengeful Spirit and his New York Times bestsellers A Thousand Sons and the novella The Reflection Crack'd, which featured in The Primarchs anthology. Graham's Ultramarines series, featuring Captain Uriel Ventris, is now six novels long, and has close links to his Iron Warriors stories, the novel Storm of Iron being a perennial favourite with Black Library fans. He has also written the Forges of Mars trilogy, featuring the Adeptus Mechanicus, and the Warhammer Horror novella The Colonel's Monograph. For Warhammer, he has written the Warhammer Chronicles trilogy The Legend of Sigmar, the second volume of which won the 2010 David Gemmell Legend Award.