Afterimages: On Cinema, Women and Changing Times (Hardcover)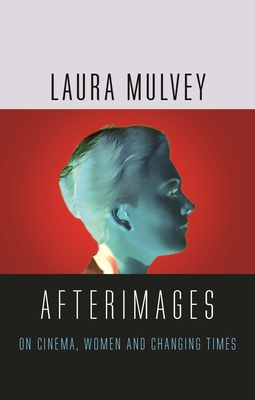 $25.00
On Our Shelves Now - Please call to confirm stock for hot titles
Description
---
Marking a return for Laura Mulvey to questions of film theory and feminism, as well as a reconsideration of new and old film technologies, this urgent and compelling collection of essays is essential reading for anyone interested in the power and pleasures of moving images.

Its title, Afterimages, alludes to the dislocation of time that runs through many of the films and works it discusses as well as to the way we view them. Beginning with a section on the theme of woman as spectacle, a shift in focus leads to films from across the globe, directed by women and about women, all adopting radical cinematic strategies. Mulvey goes on to consider moving image works made for art galleries, arguing that the aesthetics of cinema have persisted into this environment.

Structured in three main parts, Afterimages also features an appendix of ten frequently asked questions on her classic feminist essay "Visual Pleasure and Narrative Cinema," in which Mulvey addresses questions of spectatorship, autonomy, and identity that are crucial to our era today.
About the Author
---
Laura Mulvey is professor of film and media studies at Birkbeck College, University of London, and the author of Visual and Other Pleasures, Citizen Kane, and Fetishism and Curiosity.
Praise For…
---
"Mulvey has a voice that carries. In the wake of #MeToo, and in an age where being active on social media demands a constant ebb and flow of looking and self-presenting, her coinage has been taken up by a new vanguard. . . . A wave of artists and audiences are actively adapting and expanding Mulvey's thinking—and now, so is the critic herself. . . . Mulvey's new book is especially pertinent, given the widening rift between her second-wave feminist peers—who are predominantly white academics—and the current 'fourth-wave,' known for its Twittersphere stomping ground and exacting inclusivity standards. . . . Mulvey's voice cuts through generational divides, and Afterimages strikes a balance between consistency of thought and a willingness to adapt."
— Financial Times
"Beloved experimental filmmaker Laura Mulvey's latest effort [is] a captivating rumination on film theory through a decidedly feminist lens. A gorgeously put together book superficially, this release from Reaktion Books is an exciting discovery, a book that challenges classical thoughts around structures in a manner that feels fresh and of this specific moment in time. Looking at everything from the use of women as spectacle in fiction cinema to the rise of cinematic language within visual art in the gallery space, Afterimages is a wide-reaching collection of essays that all carry with them the same lyrical and compelling Mulvey voice. Toss in a provocative FAQ section surrounding her legendary 'Visual Pleasure And Narrative Cinema' essay and you have a release that's essential for anyone interested in the intersection between cinema and gender."
— CriterionCast, "20 Best Film Books to Give This Year"
"Tying together fourteen texts . . . is a concern for looking back, for thinking about the cinema as something past, fragile, perishable . . . . As Mulvey puts it, 'the cinema has moved from a technological straightjacket into a lived flexibility,' opening up new avenues of inquiry, new modes of engagement. . . . Afterimages takes up themes and concepts long central to Mulvey's thinking, particularly feminism and psychoanalysis. . . . Her investments persist in altered form as they are rearticulated in relation to the demands of the present."
— Erika Balsom
"Future filmmakers as well as art and media students will find this academic take on feminism and cinema a valuable resource."
— Library Journal
"A frank, personal, and critically adroit work, which . . . demonstrates how films—even those that have received the most critical attention—continue to challenge, reveal, and provoke. . . . A valuable and unique set of responses and arguments by one of the discipline's most eminent founding scholars, demonstrating the vivacity of her work."
— Viewfinder
"Mulvey's ability to provoke and stimulate remains undiminished. Paying tribute to the feminist critics who wrote about Mary Kelly's Post-Partum Document (1973-1979) she writes: 'their words and ideas . . . their commentaries and analyses, have established a terrain and a frame of reference for today's feminist engagement with aesthetics, theory, art practice, and beyond.' At her best, with Afterimages, Mulvey continues to achieve precisely that."
— PopMatters
"This book comprises essays on individual films ranging from canonical to obscure. Mulvey relates the self-reflexive nature of Lola Montès, Vertigo, and Le Mépris to cinema as an apparatus for the construction of woman as image. Jeanne Dielman explores the use of mise-en-scène as a nonverbal language that expresses the heroine's unconscious. A chapter on Marilyn Monroe argues that she represents the alienating effects of the woman as the object of the gaze, seen in The Misfits, which explores the dark underside of her fetishized image. Daughters of the Dust weaves a tapestry of women's images across generations to provide a history of Nana Peazant's family. Director Rakhshan Bani-Etemad offers a social realist portrait of women's oppression in Iran, where women's inability to speak is given expression through cinematic language. The thread that runs through the book is that of women's voices, from Akerman's Jeanne Dielman to Alina Marazzi's 'lost and silenced' voices, Clio Barnard's 'ghostly voices' from the past that seek to speak to the future, and Mary Kelly's attempts to give 'a voice to silence' through her meditation on maternal muteness in Post-Partum Document. A readable and accessible book by a major author in the field. Highly recommended."
— Choice
"Over forty years ago, Mulvey's searing polemic Visual Pleasure and Narrative Cinema brilliantly articulated why the movies we love also damage us by shoring up patriarchal power. Since that scorched earth moment, Mulvey's analysis of the moving image has broadened and deepened, which makes this book absolutely necessary to today's cultural struggles around gender, race, and class."
— Amy Taubin, critic and contributing editor at "Film Comment" and "Artforum"
"As a female filmmaker, I owe a debt of gratitude to Mulvey, for her filmmaking and for her tireless theoretical explorations. She has secured the space in which women are permitted expression and may explore the virtues of silence, stillness, and the maternal. It is always exciting when Mulvey publishes new work."
— Joanna Hogg, filmmaker
"At once a critical fascination with Hollywood's images of women, a nuanced approach to modern women filmmakers, and a consideration of cinema's status in relation to contemporary art: the great skill of Mulvey is to move between these multiple lines of inquiry, taking her reader with her as only a true writer can."
— Raymond Bellour, director of research emeritus, CNRS, Paris, and author of "The Analysis of Film and Between-the-Images"