A Short History of (Nearly) Everything Paranormal: Our Secret Powers Telepathy, Clairvoyance & Precognition (Paperback)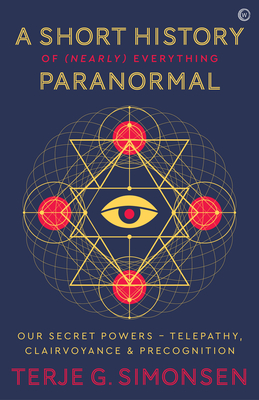 $35.00

Backordered to the Publisher - May not be immediately available! Contact us for more information.
Description
---
"A superb survey of the paranormal" and a travelogue through the twilight zone of human consciousness—hailed by experts as the best introduction to psychic phenomena (Herbie Brennan, New York Times–bestselling author).

This is the most entertaining and broad survey of the paranormal ever made—combining forgotten lore, evidence from parapsychological experiments, and the testimonies of scientists, archaeologists, anthropologists, psychologists, physicists, and philosophers. Exploring the possibility that paranormal phenomena may be objectively real, this travelogue through the twilight zone of human consciousness is both scientifically rigorous and extremely entertaining. 

Readers may be surprised to learn that reputable scientists, among them several Nobel laureates, have claimed that:
 
• telepathy is a reality
• Cleopatra's lost palace and Richard III's burial place were recovered with clairvoyance
• the US military set up an espionage program using psychics 
 
Could it be that what we usually call "supernatural" is a natural but little understood communication via this mental internet?  The winner of the most prestigious award in the field, the Parapsychological Association Book Award, A Short History of (Nearly) Everything Paranormal is an engaging, entertaining and informative analysis of a controversial subject.
About the Author
---
Terje Gerotti Simonsen is a Norwegian writer and historian of ideas, who teaches and writes predominantly on the esoteric traditions: hermeticism, occultism, mysticism. His works include the introductory essays to the Norwegian editions of The First Book of Enoch and Martin Buber's I and Thou in two prestigious series, The World's Holy Scriptures and The Cultural Library.
Praise For…
---
"As an encyclopedic introduction to the psychic side of the fascinating but puzzling domain knownas the paranormal, there is no better choice than A Short History of (Nearly) Everything Paranormal."
- Dean Radin, PhD, Chief Scientist at the Institute of Noetic Sciences (IONS). Author of the award-winning The Conscious Universe, Entangled Minds and Supernatural

"This is an outstanding book and it deserves all the attention it can get. Not only is Our Secret Powers a book for all seasons, it is a book for all reasons!"
- Stanley Krippner, PhD, Professor of Psychology, Saybrook University, Co-editor, Varieties of Anomalous Experience: Examining the Scientific Evidence


"Our Secret Powers is a sprawling work, meticulously researched, in which the author deftly, and with engaging wit, pulls together the various strands of "psi"--telepathy, clairvoyance, precognition,telekinesis, and healing--and presents them for our consideration.(...) If you are not convinced, well then, he hopes that you will be at least entertained. I was."
- Teresa Carpenter, Pulitzer-prize winner, and author of the New York Times #1 bestseller Without a Doubt

"Superb survey of the paranormal (...) a veritable cornucopia of odd facts and fascinating information stitched into a much-needed survey of a vitally important subject. Although serious in content, it is written in a light, often humorous, style which is a delight to read. As someone who has myself made a lifelong study of the paranormal, I cannot recommend it highly enough."
- Herbie Brennan, best-selling author New York Times book list, The Faerie Wars and other titles

"Terje Simonsen is a remarkably balanced and insanely well-read guide into a literally impossible subject."
- Jeffrey J. Kripal, PhD, J. Newton Rayzor Professor of Religion, Rice University, Houston, Texas, author of Authors of the Impossible: The Paranormal and the Sacred


"Engaging and informed."
- Stephan A. Schwartz, PhD, Fellow, William James Center for Consciousness Studies, Sofia University, Palo Alto, California. Author of The 8 Laws of Change


"Highly captivating, jovial and easy to read."
- Adrian Parker, PhD, Clinical psychologist. Tenured professor at Gothenburg University, Sweden, researcher into lucid dream-states and exceptional experiences amongst twins


"Simonsen casts his net both wide and deep, drawing on the history of paranormal research as well as on recent findings."
- Christopher McIntosh, PhD, (prev.) Centre for the Study of Esotericism Exeter University, author of Beyond the North Wind: The Fall and Rise of the Mystic North

"An international classic on a topic that affects us all to our core!"
- Annkathrin Puhle, PhD, author of Shakespeare's Ghosts Live: From Shakespeare's Ghosts to Psychical Research

"Well-researched and comprehensive"
- Bruce Olav Solheim, Ph.D. author, Fulbright scolar, distinguished professor in History, Citrus college

"The best book on the paranormal I have ever read."
- Dr. Jerry Hirschfield, best selling author, Your Soul Is Calling: Healing Our Ego Addiction

"I enthusiastically recommend "A Short History of (Nearly) Everything paranormal" as a wonderful gift for the person 'who has everything,' since most certainly they will not already have this book, which just might positively transform their world."
- Cynthia Sue Larson, bestselling author, life-coach

"… a unique book"
- Henry Reed, PhD, author of The Intuitive Heart: How to Trust Your Intuition for Guidance and Healing

"I found this book easy to read, interesting, even occasionally funny, but also quite insightful and informative."
- Toby Johnson, author Finding Your Own True Myth: What I Learned from Joseph Campbell

"His passion for historic and multi-cultural research studies shine through his work in every chapter of the book"
- Aida Askry, PhD, author of Book of Present

"Would recommend it to anyone who would like to better understand the scientific evidence proving the existence of psychic powers"
- Steven Richheimer, PhD, author of The Nonlocal Universe, Why Science Validates the Spiritual Worldview.

"What Dr. Simonsen has done is provide one of the best-detailed paranormal reference books currently available."
- Norman W. Wilson, PhD, author of Shamanism - What's its all about

"… a comprehensive guided tour through the dense forest of the paranormal, a feat which he accomplishes with deft, open-minded ease."
- Barry Cottrell, author of The Way Beyond the Shaman: Birthing a New Earth Consciousness