The Sandman Universe: Nightmare Country (Hardcover)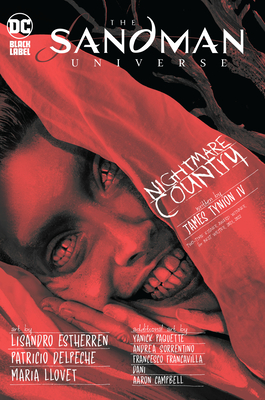 Description
---
Return to the world of Neil Gaiman's seminal epic The Sandman, in a new series starring fan-favorite character the Corinthian, and written by horror comics superstar James Tynion IV!

Sometimes, Nightmares walk the Earth.

Dream of the Endless is the unquestioned lord of all that happens when we sleep—including his most solemn duty, the creation of nightmares. It was his hand that formed the Corinthian, patron saint of serial murder, whose ravenous mouths have tasted the blood of sleepers for centuries. Once, years ago, the Corinthian escaped the Dreaming and entered the waking world—and the body count was vast. Dream eventually put that injustice to rights and un-created the Corinthian, remaking him as a more pliable nightmare, and bringing him back to his appointed task.

But now a new nightmare has escaped into the "real" world. Art student Madison Flynn sees this "Smiling Man" in her waking hours…and she's not alone. What's more, this monster is somehow, improbably, impossibly, a nightmare that Dream of the Endless did not create. And when he realizes this fact, the Corinthian will slip once more onto our plane and start a hunt for this mockery… but heaven help us all when his memories of his past hunts begin to return!

Megahit New York Times bestselling horror writer James Tynion IV (Batman, Something Is Killing the Children, The Department of Truth) joins with artist Lisandro Estherren (Redneck, Strange Skies Over East Berlin) and an array of superstar guests to expand the legendary world of The Sandman and chronicle a terrifying descent into America's uncontrolled id, where outsider artists, gruesome "collectors," billionaire prophets, and homegrown angels merge their minds to give birth to a wholly new—and wholly horrific—American dream! Collects The Sandman Universe: Nightmare Country #1-6.
About the Author
---
James Tynion IV started in the comics business assisting Scott Snyder in writing backup stories for Snyder's groundbreaking Batman series. Tynion soon began writing Talon, and in 2020, started his own acclaimed run on the main Batman series. He has also written Batman: Detective Comics, Constantine: The Hellblazer, and Justice League Dark, along with co-creating major horror hits such as The Nice House on the Lake, Something is Killing the Children, and The Department of Truth.