My Hood's Not Big Enough!: Bilingual Inuktitut and English Edition (Hardcover)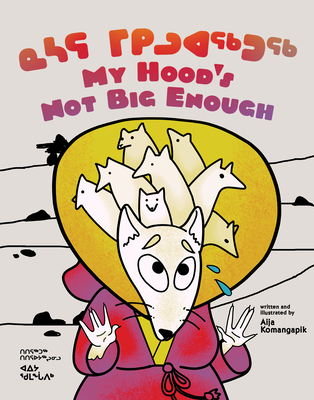 $24.95

Available from our Distributors - Usually arrives in-store in 2-7 days
Description
---
Oof My hood is not big enough said Mother Fox. Who will help her?
Mother Fox loves all her babies so much. But when she tries to carry all eight of her babies on her back, her hood's not big enough What will she do? See how her family offers to help as Mother Fox learns she does not need to carry all her babies alone.
Snuggle up and enjoy a sweet story about motherhood and family in this sweet bilingual picture book.
About the Author
---
Aija Komangapik is a young aspiring artist who hopes to entertain and inspire other Inuit children through her art. She was born and raised in Iqaluit until she moved to Quebec. She was the designer for the Canadian Indigenous History Month emoji for Twitter and won the 2019 Indigenous Arts and Stories contest from Historica Canada for her piece "Drum Dancer", a digital image that showcases her fluid style and bright colourful choices. Most of her time spent is used to create small crafts, sewing or reading whatever she can get her hands on.