Rivers Run Through Us: A Natural and Human History of Great Rivers of North America (Hardcover)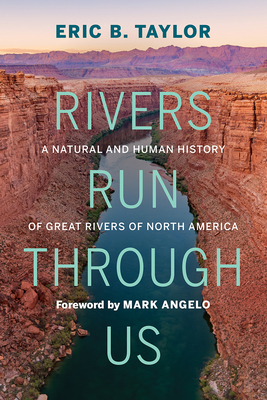 Description
---
An engaging, informative, and personal exploration of some of the great rivers of North America.
The physical nature of rivers has influenced the course of human history and development, whether it be in the prosecution of major conflicts (US Civil War), patterns of development and social change (dams on the Columbia River), the economy (gold rushes, agricultural development), or international relations (US and Mexico and the Colorado River). The centrality of human-river interactions has had great impacts on the biodiversity of rivers (salmon and other threatened species) that have been the focus of historical and current intense conflicts of values (e.g., water in the Sacramento-San Joaquin system and California "water wars" in general).
Of the thousands of rivers in North America, 10 are profiled in Rivers Run Through Us:
Mackenzie River
Yukon River
Fraser River
Columbia River
Sacramento-San Joaquin River
Colorado River
Rio Grande/Rio Bravo River
Mississippi River
Hudson River
St. Lawrence River
In this engaging new work, Eric Taylor takes readers on a grand tour of 10 of North America's more important river systems, exploring one fundamental issue for each that illustrates the critical role each particular stream has had -- and will have -- in the human development of North America.
About the Author
---
Mark Angelo is a river conservationist, writer, speaker, teacher, and paddler. He is the founder and chair of both B.C. and World Rivers Day and is rivers chair of the Outdoor Recreation Council of BC, as well as a Fellow of the New York-based Explorers Club and a Fellow of the Royal Canadian Geographical Society. He lives in Burnaby, British Columbia.