Parent Up: Inspire Your Child to Be Their Best Self (Paperback)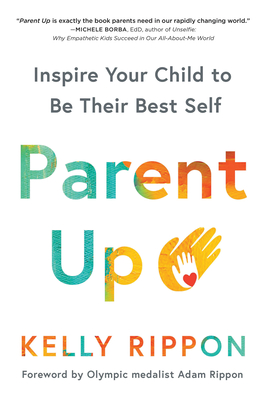 $16.99

On Our Shelves Now - Please call to confirm stock for hot titles
Description
---
Raise your kids through positive parenting, understanding, and leadership...and be the ultimate influencer in their lives.
How do you raise a champion? After her son Adam Rippon, medaled in the 2018 Olympic Games, single mom Kelly Rippon found herself being asked this question all the time. Kelly had six children—what did she do to inspire them to their achievements and how did she raise confident, self-driven, emotionally intelligent children? Kelly realized that her unique parenting ideas shared the same leadership influence model she presented to audiences across the country as a motivational and professional development speaker.
Her philosophy is simple: a parent has the greatest opportunity to be the most significant influence in a child's life. Kelly shares ten key types of influence—from Optimism to Accountability—that will inspire your kids and build your own sense of purpose and self-worth. Illustrating her influencer philosophy with relatable anecdotes from her own life and raising gifted children, Kelly invites you into your own journey of self-discovery in one of the best books on parenting and child development. No matter the challenges, you can improve your life and empower your children when you Parent Up!
Foreword by Olympic medalist Adam Rippon.
Praise for Parent Up:
"Parent Up is exactly the book parents need in our rapidly changing world. It reminds today's teachers, parents, and caregivers that leadership requires empathy, and the better we understand others, the better we understand ourselves." —Michele Borba, EdD, author of Unselfie: Why Empathetic Kids Succeed in Our All-About-Me World
"Parent Up gives parents the confidence to raise our children in a way that works for our families, and inspires resilience and self-sufficiency in our kids." —Lindsay Powers, author of You Can't F*ck Up Your Kids: A Judgment-Free Guide to Stress-Free Parenting
"Kelly shares relatable personal experiences in Parent Up that show us sometimes the difficult path leads to the best parenting. Not always protecting our kids, but allowing them to own the consequences of their actions, helps them learn to be confident, empathetic, accountable, and ultimately empowered to live their best lives. It's no wonder her oldest son, Adam, achieved his Olympic dream and is a beloved sports figure." —Kristi Yamaguchi, Olympic champion and New York Times bestselling author
"This book is a total joy! Kelly Rippon is a remarkable mother of six remarkable children whose achievements are only surpassed by their integrity and goodness of heart. Her book offers a wealth of advice for raising successful and compassionate children. Warm, witty, and wise, Kelly Rippon is a gift to all parents!" —Priscilla Gilman, author of The Anti- Romantic Child: A Story of Unexpected Joy
Praise For…
---
"Kelly Rippon's engaging book is about helping your children become the very best version of themselves — without forcing them to be somebody they're not. Through sharing her inspiring personal story of raising six children as a single mother, she gives you the tools to encourage your children to thrive without being overbearing, spending a lot of money, or following complex expert advice that doesn't work for your family. Parent Up gives parents the confidence to raise our children in a way that works for our families, and inspires resilience and self-sufficiency in our kids." — Lindsay Powers, author of You Can't F*ck Up Your Kids: A Judgment-Free Guide to Stress-Free Parenting

"Kelly shares relatable personal experiences in Parent Up that show us sometimes the difficult path leads to the best parenting. Not always protecting our kids, but allowing them to own the consequences of their actions, helps them learn to be confident, empathetic, accountable, and ultimately empowered to live their best lives. It's no wonder her oldest son, Adam, achieved his Olympic dream and is a beloved sports figure." — Kristi Yamaguchi, Olympic champion and New York Times bestselling author

"This book is a total joy! Kelly Rippon is a remarkable mother of six remarkable children whose achievements are only surpassed by their integrity and goodness of heart. Her book offers a wealth of advice for raising successful and compassionate children. Warm, witty, and wise, Kelly Rippon is a gift to all parents!" — Priscilla Gilman, author of The Anti-Romantic Child: A Story of Unexpected Joy

"In this inspiring book, Rippon shares stories of struggles, successes, and lessons learned. What sets this apart from other parenting books are Rippon's core ideals in action. She's not above using mom tricks (claiming she had each of their fingerprints so she could always tell who was guilty), but always treats her kids with genuine respect and love. Now a motivational speaker, Rippon shares thoughtful insights, extensive experiences, and sound tips for everyone who interacts with children." — Booklist

"Parent Up is the perfect antidote to the never-enough mentality that weighs so many parents down. Combining an extraordinary gift of perspective with parenting stories from the front lines, Rippon delivers a step-by-step guide for how to ignite the best in yourself and your children at the same time." — Katherine Wintsch, author of Slay Like a Mother

"Parent Up is a must-read for parents and anyone with children in their life! Kelly Rippon offers practical strategies to create an environment that grows confidence, empathy and kindness in kids, explaining the influences that allow them to become their authentic selves in an environment of unconditional love." — Judy Shepard, author of The Meaning of Matthew and co-founder and president of the Matthew Shepard Foundation

"Parent Up is filled with insights on how to raise children who believe in themselves and view the world with optimism, but it's also about a mother bursting with pride for her children, discovering the impact of her own actions, and eagerly sharing these insights with moms currently in the trenches so that we can one day feel the same." — Ilana Wiles, author of The Mommy Shorts Guide to Remarkable Average Parenting

"Parents really are their kid's first influencers, and this book really built up my confidence to be the best kind of influencer (not a controller) of my kids." — Sarah Nicole Landry, Instagram influencer @thebirdspapaya