No Limits: The Inside Story of China's War with the West (Hardcover)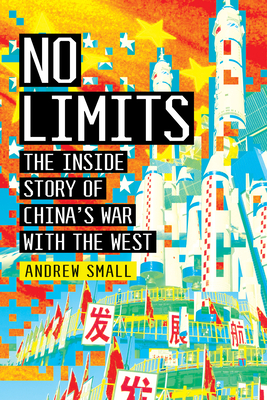 Description
---
The riveting and mostly untold story about the battle for financial and technological power and mastery between the West and China over the last decade.

Since China joined the WTO in December 2001, the West has been developing ever closer business and political ties. China's hosting of the Olympic Games and its economic leadership in 2008 as the world faced recession were signs that China's new power and wealth would herald greater global prosperity for all. But that era is over.

What was the cause of this rupture, leading China expert Andrew Small asks and what does it mean for the future? Using his deep access to the leading players in the story, Small dramatizes the intense political battles over the introduction of 5G to show how China and the West have spilt and how those abstract geopolitical rivalries translate into our daily lives—the phones we all use, the hidden wiring of the economy, and who controls it.

Written with extraordinary insider access, Small's story ranges from deep inside the bowels of the Pentagon to Indian Ocean naval bases, and from the boardrooms of the world's leading technology firms to the Taliban leadership in Kabul. The result is an engaging, lucid and even-handed account of the defining geopolitical issue of our age, and a clarion call for us to recognize the true nature of China's global ambitions.
About the Author
---
Andrew Small is a senior transatlantic fellow with the Asia program at the German Marshall Fund of the United States, and an associate senior policy fellow at the European Council on Foreign Relations. His previous book, The China-Pakistan Axis(Oxford University Press, 2015) was widely praised, including in the New York Review of Books, the Economist, Foreign Affairs, Prospect magazine and the Asian Review of Books (see below). Andrew is an experienced public speaker and has appeared frequently on broadcast interviews, and will be an excellent and committed spokesperson for his book.
Praise For…
---
" He [Andrew Small] tells the story with a combination of close detail and clear analysis that will inform both specialists and generalists." - Andrew J. Nathan, Foreign Affairs

"Detailed and clear-sighted, this is a valuable report on a consequential global rivalry." - Publishers Weekly 

"Small ably traces how China went from partner to rival to threat and maps out the challenges that it now poses for the West." - Kirkus Reviews

"[A] riveting story...'No Limits' drills down into the complex heart of strategic competition with Beijing." - The Diplomatic Courier