From the Core: A New Masculine Paradigm for Leading with Love, Living Your Truth, and Healing the World (Paperback)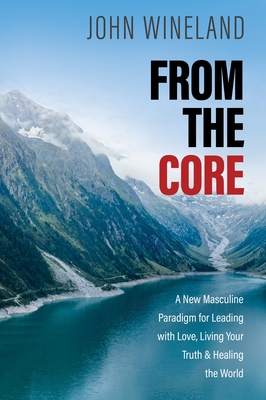 $18.99

On Our Shelves Now - Please call to confirm stock for hot titles
Description
---
A respected leader in men's work shares a practical guide to redefine, heal, and re-embrace masculinity in our world.

Men today face a crisis of identity. While we can see how the old paradigm of patriarchal dominance needs to go, is the solution really to deconstruct the very idea of masculinity out of existence? No—that's not the answer. As John Wineland writes, "We need a generation of conscious men who can provide guidance and direction in their communities, just as we need to support and encourage women to do the same." With From the Core, Wineland sets out a clear roadmap for men who want to live, love, and lead from the most profound places within them.

The techniques in From the Core will help you adapt to a changing world while staying in touch with your masculine essence. If you're willing to spend at least 30 minutes a day in practice, you can transform your entire approach to love, success, and relationships. Here you'll learn how to:

• Get strong—go beyond building your muscles to strengthening your nervous system, awareness, and ability to conduct energy
• Become masterful in the art of sexual and energetic polarity
• Align with the Sacred Feminine—operate in harmony and trust with the feminine forces within you and in others
• Take responsibility for the life you've created, the legacy of manhood, and your personal role in healing our damaged world
• Prioritize depth over comfort—becoming highly attuned to the truth of your heart and the power of your intention
• Use the Eleven Precepts of Conscious Warriorhood as your life's compass

"Despite all of the flak men have received," writes Wineland, "I see brothers every day who are hungrier than ever to step into their lives more powerfully, nobly honor and protect their feminine partners, and be a source of healing and liberation in their communities." From the Core is an inspirational guide and a call to action for men who are ready to embody conscious awareness, unflinching accountability, and true leadership.
About the Author
---
John Wineland is an LA-based men's group facilitator, speaker, and teacher who guides both men and women in the realms of life purpose, relational communication, sexual intimacy, and embodiment. Drawing from intensive study with David Deida, as well as the deep lineages of Vajrayana, Tantra, Kundalini, and Qigong, he seeks to create a profound experience for men and women longing to express their deepest desires with open, fierce, and loving hearts. For more, visit johnwineland.com
Praise For…
---
"From the Core is for every struggling, determined, distracted, beautifully powerful man that you know—which is to say, all of them. This is urgent. Clearly. John's insight supports men to grow into the active healers and heart-centered leaders that the world needs." —Danielle LaPorte, author of The Desire Map and How to Be Loving

"John's work and his words have changed my life, and this book is no exception. John has a brilliant way with words that make sense of our experience, lead us to grow and step into our fullest potential, heal what needs to be healed, and not just understand what healthy masculinity means but also how to be it and live it. John is a gift to the world, and this book is a gift to yourself. Buy it." —Mark Groves, human connection specialist and founder of Create The Love

"From the Core is a masterpiece and guidebook for anyone who's looking to level up their lives. John beautifully weaves together big concepts into easy-to-understand stories and practical lessons that can be applied immediately." —Preston Smiles, two-time bestselling author of Love Louder: 33 Ways to Amplify Your Life and coauthor of Now or Never: Your Epic Life in 5 Steps

"Direct, practical, and rich in tools for strengthening the hearts, minds, and souls of men. This book has a depth of wisdom and practicality that is so challenging to achieve. From the Core shows the reader exactly how to let the masculine within lead. An instant must read and classic for every man." —Connor Beaton, founder of ManTalks and author of Men's Work