How to Have a Kid and a Life: A Survival Guide (Paperback)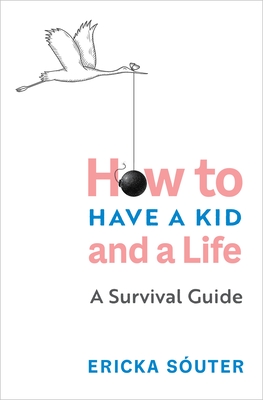 $18.99

On Our Shelves Now - Please call to confirm stock for hot titles
Description
---
Continue to have and grow your life, Mom—for your sake and your kids'.

When did being a good mom come to mean giving up everything that used to make you … you? That's the question millions of 21st-century mothers grapple with every single day as they parent in our madly kid-centric culture. Contrary to the incessant messaging from everywhere, committing to yourself and your own needs is what makes for a good mother and happy kids.

With How to Have a Kid and a Life, popular journalist and Good Morning America parenting expert Ericka Sóuter shares her tips for being a happy, whole person while still being a great, and sometimes just good enough (which is plenty fine), parent. Sóuter blends her own stories of surviving the seismic challenges of parenthood with testimonials from stay-at-home and working moms; interviews with therapists and researchers; and findings from the latest studies on happiness, self-care, and parenthood. What she delivers is a wonderfully irreverent survival guide to motherhood, featuring:

• Advice on keeping your career on track while parenting
• Tips for handling clueless and unhelpful partners
• Taking back ownership of your body
• Creating a reliable village of support (even with moms you didn't think you'd like)
• Staying connected with child-free friends
• What to do if you feel like you're missing the "mom gene"
About the Author
---
Ericka Sóuter is a parenting expert on Good Morning America and other national network shows. With 20 years of journalism experience, she is a respected voice in parenting news and parenting advice. It's her job to speak to parents across the country and to stay on top of the issues, controversies, and trends most affecting families today. Her work appears on CafeMom, mom.com, and additional sites that reach millions of parents monthly. She is a former staff writer for People magazine and Us Weekly, and her work has also been featured in Essence, Cosmopolitan, Self, HuffPost, and WebMD.

Ericka received her bachelor's degree from Georgetown University and a master's degree from the Columbia University Graduate School of Journalism. A native of Ann Arbor, Michigan, she currently lives in New York City with her husband, Caleb, and her sons, Lex and Aidan.

For more, visit erickasouter.com.
Praise For…
---
"Journalist Sóuter debuts with an encouraging guide for new mothers who are overwhelmed by the expectations held up by the media, mommy culture, and one's own preconceptions of what parenting should be like." —Publishers Weekly

"A brilliant book for any woman out there who is feeling alone, isolated, or overwhelmed with too much to do. It is a must-read guide that will help you understand how we got here, how to take back control of your life, and, most importantly, that you are not alone." —Eve Rodsky, New York Times bestselling author of Fair Play: A Game-Changing Solution for When You Have Too Much to Do (and More Life to Live)

"Parenting is arguably the most high-stakes, high-pressure, high-reward endeavor one human being can embark upon. Now, Ericka Sóuter has tapped into the often difficult-to-navigate world of being a parent and a person at the same time, and she does it in a frank, relatable, no-nonsense way. There is something for everyone in here: I laughed, I cried, and I learned. Thank you, Ericka!" —Jennifer Ashton, MD, mom and ABC News chief medical correspondent

"Everything you need to know about Ericka Sóuter's tenacity, compassion, and humor as a working mom can be summed up this way: she wrote this amazing book during the pandemic . . . and while potty training. Her empathetic voice, no-BS advice, and guilt-relieving research are an arm around your shoulder. Take comfort." —Lauren Smith Brody, author and founder of The Fifth Trimester