Above the Law: How "Qualified Immunity" Protects Violent Police (Paperback)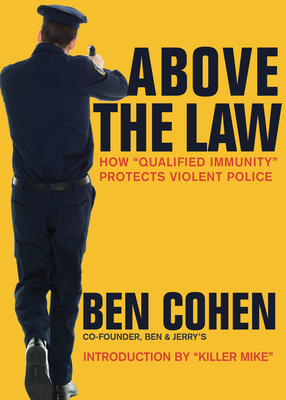 $13.00

Available from our Distributors - Usually arrives in-store in 2-7 days
Description
---
- A police officer kills a twelve-year-old boy. It's caught on video. The officer gets off.
- A police officer strangles a man selling cigarettes. It's caught on video. The officer gets off.
- A police officer shoots a man in his car. It's live-streamed. The officer gets off.

It happens over and over again. The culprit here, alongside the cops, is Qualified Immunity (QI), a legal principle which Reuters describes as "a nearly failsafe tool to let police brutality go unpunished and deny victims their constitutional rights."
Originally intended to protect cops from being sued over good faith mistakes, courts have interpreted QI so broadly that police are shielded from accountability in all but the rarest of circumstances. Only when the exact same abusive behavior was already deemed unconstitutional by a court in the exact same jurisdiction can victims succeed in a prosecution.
Above the Law recounts 12 cases in which justice was denied because of QI. The stories are accompanied by infographics, timelines, and contextualizing background to create a concise and compelling indictment of an outrageously unjust legal principle that must be changed.
About the Author
---
Ben Cohen is the co-founder and former CEO of Ben & Jerry's Ice Cream. He is the founder of a variety of advocacy organizations and the author of several books, including: Ben & Jerry's Double Dip Capitalism: Lead with Your Values and Make Money Too; Values-Driven Business: How to Change the World, Make Money, and Have Fun; and Ben & Jerry's Homemade Ice Cream & Dessert Book. Ben and his partner Jerry Greenfield are currently helping to lead The Campaign to End Qualified Immunity.