My Death (Paperback)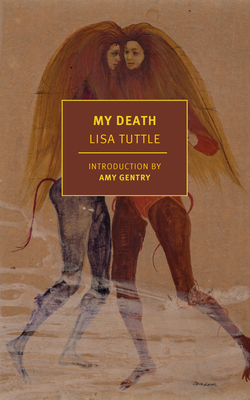 Description
---
A widowed writer begins to work on a biography of a novelist and artist—and soon uncovers bizarre parallels between her life and her subject's—in this chilling and singularly strange novella by a contemporary master of horror and fantasy.

The narrator of Lisa Tuttle's uncanny novella is a recent widow, a writer adrift. Not only has she lost her husband but her muse seems to have deserted her altogether. Her agent summons her to Edinburgh to discuss her next book. What will she tell him? At once the answer comes to her: she will write the biography of Helen Ralston, best known, if at all, as the subject of W.E. Logan's much-reproduced painting Circe, and the inspiration for his classic children's book, Hermine in Cloud-Land.

But Ralston was a novelist and artist in her own right, though her writing is no longer in print and her most radical painting, My Death, deemed too unsettling—malevolent even—to be shown in public. Over the months that follow, Ralston proves an astonishingly cooperative subject, even as her biographer uncovers eerie resonances between the older woman's history and her own. Whose biography is she writing—really?
About the Author
---
Lisa Tuttle was born and raised in Texas and moved to Britain in the 1980s. Her first novel, Windhaven, co-written with George R.R. Martin, was followed by a dozen fantasy, science fiction, and horror adult and YA novels, and hundreds of award-winning short stories collected in several volumes, including A Nest of Nightmares and The Dead Hours of the Night. She is the author of The Encyclopedia of Feminism and currently writes a monthly science fiction review column for The Guardian. She lives with her husband and their daughter in Scotland.

Amy Gentry is the author of the novels Good as Gone, a New York Times Notable Book; Last Woman Standing; and mostly recently, Bad Habits. She is also a nonfiction writer whose work has appeared in numerous outlets, including the Chicago Tribune, Salon, and The Paris Review. She lives in Austin, Texas.
Praise For…
---
"Lisa Tuttle is, quietly and unsensationally, the finest practitioner of unsettling fiction writing today. She can make you doubt reality, she can chill your flesh and walk you into the darkness with gentle, perfectly constructed prose. Her authorial voice is so sensible that it's easy to forget, over and over, in story after story, that she's one of the dangerous ones, the kind of writer that somebody really should have warned you about." —Neil Gaiman

"Is [My Death] a chilling prediction, or does it point to a wished-for-ending, the consummation of a life?...originally published in 2004, repackaged as a modern classic, this riddling narrative laces fiction with fact, while touching upon (among other things) the mysteries of attraction, identity, and the fate of female creatives in the shadow of men." —Stephanie Cross, Daily Mail

"Tuttle's work to date has been categorized as horror, or speculative fiction, and My Death deftly navigates between conventional storytelling and the uncanny feeling that things are perhaps other than they appear. The theme of the alternate feminist narrative is actually integrated into the form of the novel itself...in the end, My Death is not about death at all, but about life after catastrophe: how art revives us, and how writers live on in their readers." —Lauren Elkin, The New York Times

"My Death is very readable, in that page-turning, suspense-building way....The fun of My Death is in its propulsive mystery plot...it is a creepy, cozy pleasure, the kind of story that bothers a reader in the nicest sort of way." —Biblioklept

"Full of twists and turns, the book conjures the rich inner lives of women working on the fringes of artistic communities that often forget to memorialize or acknowledge them, even as Tuttle keeps taut the thread of suspense that animates the story. Powerful and empoweringly weird." —Kirkus Reviews

"Lisa Tuttle's characters crawl into places that many genre authors avoid....As sexually uncomfortable as her books can be, it's the emotional discomfort that clings to you....Tuttle's books are messy and chaotic. They feel desperate. They feel human. They feel like real life." —Grady Hendrix, Tor.com

"It is [Tuttle's] influence, ringing loud and clear, on the award-winning work of authors like Carmen Maria Machado, Elizabeth McCracken, and Karen Russell that will finally lead grateful readers back to her." —Booklist