Awakenings: American Jewish Transformations in Identity, Leadership, and Belonging (Hardcover)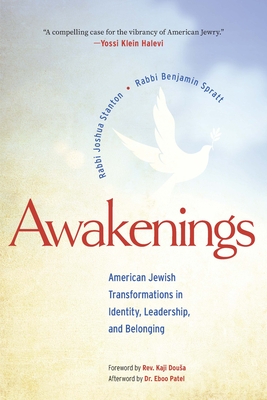 Description
---
"Strong debut . . . this nuanced portrait of the state of American Judaism proffers a cogent vision of how to revitalize the faith." --Publisher's Weekly
Why are religious organizations on the decline? What changes have caused many of them to lose touch with modern spiritual needs? What does it take to remain relevant in today's world? Rabbis Joshua Stanton and Benjamin Spratt take on these and other critical questions facing religion today. And they have answers that are frank and yet surprisingly upbeat.
Nearly every facet of American Jewish life--and of American religious life in general--faces both disruption and great prospects for renewal. In every corner of our community, Jewish identity, wisdom, ritual, and power are being remixed and reimagined. As centralized authority declines, American Judaism moves and grows in a multitude of directions.

As technology reduces the importance of geographic boundaries, new opportunities for connection and new modes of exercising power emerge. New mixtures of ancient Jewish practice and modern needs are beginning to shape the renewal of American Judaism, widening access to Jewish wisdom and ritual, transforming Jewish consumers into Jewish co-creators, and building new networks of Jewish belonging.
The initial purposes that inspired much of the American Jewish infrastructure are now falling victim to their own success.
An emphasis on nostalgia and authenticity encourages us to mythologize the past and narrow our awareness of the present. A focus on buildings and centralized power by much of American Judaism reflects the realities of a century ago.
In understanding what keeps these organizations mired in the past, we can unearth a new purpose to unify the American Diaspora and guide it toward a new golden age.
The Foreword by Rev. Kaji Dousa, Senior Pastor of Park Avenue Christian Church, asks what a Black pastor can add to the work of two white rabbis, and the answer is that "cherished thinking needs a hard look everywhere. Particularly as we rightly orient our resources to protecting the good, to eliminating poverty that need not exist, to eradicating the hatred that threatens the very existence of our people--we need to look, together. Blacks and Jews and those living in the intersections therein will only survive and thrive with the survival and thriving of each other. So, of course, it makes sense that we will awaken, together."
The Afterword by Dr. Eboo Patel, Founder and President of Interfaith Youth Core cites the story of Rabbi Akiva, who "did not mourn when he saw the ruins of the Temple but rather was delighted. 'We always knew these stones must come down. In order to move forward, this had to fall apart first. Now we can begin.' All of our religions have history and theology like this. I think about the emergence of everything from Catholic orders to Sufi tariqas--renewal movements that changed the map of entire religions. We are at that same point again. Rabbis Stanton and Spratt propose we meet the moment with the generosity and power that are at the heart of all our religions. Their work gives me confidence that we can."