Sad Happens: A Celebration of Tears (Hardcover)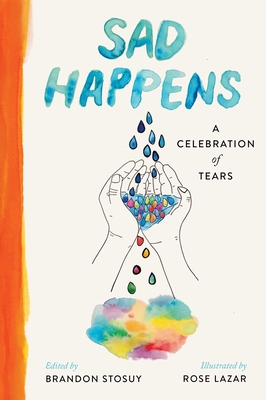 Description
---
A beautifully illustrated, celebratory anthology exploring sadness—and the transformative power of tears.

When was the last time you cried? Was it because you were sad? Or happy? Overwhelmed, or frustrated? Maybe from relief or from pride? Was it in public or in private? Did you feel better afterwards, or worse? The reasons that we cry—and the circumstances in which we shed a tear—are often surprising and beautiful. Sad Happens is a collective, multi-faceted archive of tears that captures the complexity and variety of these circumstances.

We hear from Mike Birbiglia on the role that grief and pain have in comedy; Jia Tolentino on how motherhood made her cry in both hormonal joy and fervent rage; and Hanif Abdurraqib on the intimacy of crying on planes. We hear from Phoebe Bridgers on poignant moments of departure and JP Brammer on the strange disappointments of success; Matt Berninger on becoming a crybaby in his adulthood and Hua Hsu on crying during a moment of public uncertainty. We also hear from everyday people in a range of professions: an actor on the tips she learned from drag queens about preserving a full face of makeup while crying; a zookeeper on mourning the animals who have died during her tenure; a bartender on crying in the walk-in; and a TV critic on the shows that have moved her.

Brimming with humanity, this anthology is confirmation that sad happens—but so does joy, love, a sense of community, and a host of other emotions. By turns moving and affirming, Sad Happens is an emotional balm and visual delight.
About the Author
---
Brandon Stosuy is the cofounder and editor in chief of The Creative Independent, published by Kickstarter. He previously worked as director of Editorial Operations at Pitchfork. Brandon curates the annual Basilica SoundScape festival in Hudson, New York, and has been a music curator at both MoMA PS1 in New York City and the Broad museum in Los Angeles. He is the author of three books on creativity, Make Time for Creativity, Stay Inspired, How to Fail Successfully, and two children's books, Music Is... and We Are Music. He lives in Brooklyn with his wife and two children.

Rose Lazar has a background in fine art and printmaking, and has published a number of art books. She founded Cosmic Peace Studio (formerly Great Lake Goods) in 2008, which is a paper and home goods line made in her studio in Brooklyn, New York. Cosmic Peace Studio started as a way for Rose to continue her love of printmaking and has turned into a world of posi vibes and lucky totems for you and your home. In 2017 she started Aventures, LTD, with Robert Aiki Aubrey Lowe, as a limited-edition art and music imprint and has published twenty (plus) editions and exhibited in art book fairs throughout the USA.