The Imagination Matrix: How to Access the Greatest Power You Have for Creativity, Connection, and Purpose (Hardcover)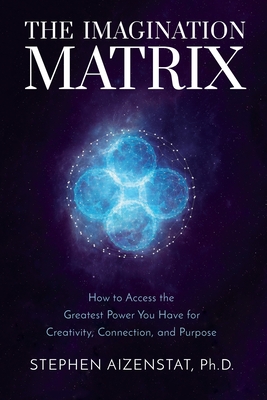 $27.99

Coming Soon - Available for Pre-Order Now - Please check release date!
Description
---
A leading depth psychologist offers a practical approach for vastly expanding your creative resources—and discovering for yourself that even the challenges of our time can be overcome by the power of human imagination.

If ever there was a time and a place to reconnect with imagination, that place is here, that time is now. For anyone looking for a new way forward for yourself, your community, and our struggling planet, Professor Stephen Aizenstat offers a powerful message of hope. The trailblazers are people like you—the seekers, creatives, dreamers, doers—who are willing and ready to tap into a collective purpose so vital, so vibrant, so resonant in the world of today.

In The Imagination Matrix, Aizenstat shares a step-by-step process to help you gain access to the "source code of imagination"—energizing your capacity to innovate new outcomes, evolve real-world solutions, and nurture your well-being. Here you'll explore:

• Opening the Curious Mind—a new method to engage imagination and wonder
• Answering the call of your Innate Genius
• Growing your capacities of Imaginal Intelligence
• Maintaining your humanity in an increasingly technological world
• Claiming your creativity and purpose to meet the pull of the future

The Imagination Matrix offers a practical and uniquely personal path for becoming more purposeful, resourceful, and resilient—while developing a profound connection to the creative force that animates and flows through us all.
About the Author
---
Stephen Aizenstat, Ph.D., is the founder of Pacifica Graduate Institute, Dream Tending, and the Academy of Imagination. For more than 35 years, he has explored the power of dreams through depth psychology. He has collaborated with Joseph Campbell, Marion Woodman, Robert Johnson, James Hillman, and Native elders worldwide. He conducts dreamwork and imagination seminars throughout the US, Europe, and Asia. For more, visit dreamtending.com.
Praise For…
---
"The Imagination Matrix is an exceptional gift. Stephen Aizenstat provides the essential tools to live a life with richer meaning and awe. The reader will be immediately transported to a life of wonder and possibilities and be renewed in their dedication to a positive future. The timing of this book could not be more ideal and relevant." —Jennifer Freed, PhD, author of the bestseller A Map to Your Soul


"The Imagination Matrix offers portals of awareness through which each reader can find their inner code of life and their living core of creative imagination. This radical shift in consciousness transforms individuals and communities, and also supports the entire planet." —Michael Meade, author of Awakening the Soul


"Reading The Imagination Matrix gives us access to our capacities to cocreate the higher dream that is longing to come into existence. The practices and gifts of this extraordinary book offer training and participation to redeem the unread vision of the higher dream. The Imagination Matrix is the essential reading for those who want to bring profoundly new ways of being and doing into this world and time." —Jean Houston, PhD, principal founder of the Human Potential Movement, coauthor of the Future Humans Trilogy


"In The Imagination Matrix, Stephen Aizenstat assembles a wealth of sources, as well as his own reflections on stuckness versus creativity, and offers a multiphase plan for a renewed relationship to that generative source within each of us. The capacity for reimagining the materials of daily life is inherent but often blocked by the inner tyrants of complexes and routinized life. This book will ask the reader to break some of those restraints and open to the insurgent images that reframe our dilemmas and that wish expression through us in the world." —James Hollis, PhD, Jungian analyst and author of multiple books, most recently A Life of Meaning


"Imagination is different from knowledge; it is the knowledge of the heart. Through the Imagination Matrix, you can enter and feel the realms of deep imagination, live an imagination-centered life, and access Imaginal Healing. What a magnetic calling, as the Imagination Matrix is alive in each of us." —Professor Heyong Shen, Jungian analyst; dean of the Institute of Analytical Psychology, City University of Macau; author of Chinese Cultural Psychology and eleven other volumes


"Stephen Aizenstat is unquestionably one of the great leaders in the field of deep imagination and dreaming of our generation. His work as a Dream Tender and as the founder of Pacifica Graduate Institute has profoundly changed the lives of thousands of people. And now there is this book, which will give many more the opportunity to tap into the healing creativity of the involuntary imagination as it establishes itself around us constantly in the endless stories it spontaneously spins. Dive in with this experienced guide of souls and find your way into the creative genius that surrounds us day and night." —Robert Bosnak, PsyA, Jungian psychoanalyst, originator of Embodied Imagination®, author of Red Sulphur

"The Imagination Matrix by Stephen Aizenstat is an imaginal companion that everyone should have. It is a true gift to the world that activates and calls upon our creative genius for taking on the greatest challenges of our time, infusing our lives, work, and relationships with meaning, story, and the powers of the imaginal realms of consciousness. Through it we learn to partner the essences of the Four Quadrants—Earth, Mind, Machine, and Universe—supported by cutting-edge research and breakthrough practices and applications from the fields of earth sciences, depth psychology, new technologies, and cosmology.

"This powerful guidebook will significantly up-level your life and work in ways seen and unseen. Aizenstat's brilliant storytelling evokes your Curious Mind and guides you home to your beloved Soul Companions, as you discover how to empower each other and answer our deeper calling for being.

"The Imagination Matrix prepares us for the massive transformations that are required from us at this time and in ways that rekindle our Imaginal Play, invite fun, increase joy and wonder, and deepen our love for life, Gaia, and each other." —Anneloes Smitsman, PhD, founder of EARTHwise Centre, coauthor of the Future Humans Trilogy


"A marvelous journey into the worlds of imagination! Through stories, practical examples, and supportive ideas, Stephen Aizenstat leads you to connect with the creative and healing powers of imagination. Become friends with your Soul Companions, and go on an adventure of a lifetime!" —Machiel Klerk, founder of Jung Platform, author of Dream Guidance, psychotherapist


"A long-awaited, new, wise, and soulful offering by the creator of Dream Tending, The Imagination Matrix offers a passionate vision for fulfilling our human potentials. Stephen Aizenstat brings a twenty-first century understanding of depth psychology into a rich and complex engagement with the world through a disciplined cultivation of the imagination. Using a contemporary re-visioning of the four elements, we are offered a set of salient tools for animating and enlivening our world, including its material, technological, ecological, and spiritual dimensions. Written with an utterly charming and enchanting narrative style, this book also conveys profound wisdom through stories that open our minds in a practical and immediately applicable manner. Engaging with this book will transform you." —Joe Cambray, PhD, IAAP past-president, Pacifica Graduate Institute


"Stephen Aizenstat's Imagination Matrix reawakens our Indigenous spiritual roots! This book is simply magic!" —André McCray, MFT, Black Dreams Matter Project


"A bountiful journey spiraling vertically down into the deep dig of curiosity, returning upward through imagination. The interconnective process that Stephen Aizenstat created prepares and illuminates a path to healing through entering the Story-Web. An easy and engaging read, this book offers a journey into depth psychology and forwards the reader, using portals, to their destiny via the Imagination Matrix. Don't miss the chance to find YOU!" —Thyonne Gordon, PhD, business profit strategist, The Thyonne Group


"If you want to learn how to creatively engage your imagination, there is no greater teacher than Stephen Aizenstat. He is a wizard of the wit, an emperor of the intuition, a magus of the imagination who can show you the way into the mystical, magical land that lies deep within your mind. Through inspiring personal stories; clear, thoughtful instruction; and powerful, effective exercises, you will learn to 'tap into and activate the Imagination Matrix to innovate new outcomes, evolve real-world solutions, and nurture your well-being.'" —Michael W. Taft, author of The Mindful Geek and Nondualism, coauthor of Ego


"The Imagination Matrix by Stephen Aizenstat invites the reader into a world of possibilities in our twenty-first century, bridging old consciousness with new. Through his writing, he has created a practical structure that joyfully provides us with support for the inner spirit. Experiential moments described in the book awaken the mind and engage the soul through a Curious Mind concept that leads to Innate Genius in practice. We are given everything that we require to truly live, fully embodied while engaged with the world. Loneliness is transformed, love is possible, and generosity becomes the gift of the individual to all that exists on our planet. Aizenstat offers us a rich path for inner reflection that helps light the way for others. This is truly a book that teaches wisdom and guidance for a most enticingly rich inner life. The Imagination Matrix offers heartfelt ways to deepen the consciousness of mind, body, and spirit." —Fanny Brewster, PhD, author of Race and the Unconscious


"The Imagination Matrix is a prescient and thought-provoking framework at the convergence point of technology and imagination. As our realities become blurred and boundaries are redefined, the Four Quadrants serve as a guide in maximizing creativity and human potential in ways we can only yet begin to imagine." —Rob Patrick, CTO and entrepreneur

"Stephen Aizenstat has a knack for accessing and connecting to the young person in all of us. Our youth have never been in greater need of connection, and the ideas, exercises, and lessons in The Imagination Matrix provide a unique, creative path for young people to develop and solidify the innate intelligence within us. It is a rarity to find a book equally accessible to young people and adults; Aizenstat has accomplished this and more." —Myka Hanson, PhD, founder of Teen Forward


"At the core, this book is a life raft for the twenty-first century. It is a manual for a brand-new, paradigm-shifting, and necessary way of seeing the world. Without minimizing the problems facing our culture, Stephen Aizenstat teaches his readers how to access a deeper level of imagination and how this opens us up to healing, inner support, and a sense of authentic interconnectedness. It will, without a doubt, help countless writers and storytellers connect to a deeper, mythic quality in their work and tell meaningful stories that point the way toward a hopeful future." —Louise Rosager, executive producer and writing coach, The Unlimited Writer & Wake Up and Dream

"What does it mean to be human in a digital world? The research increasingly points toward a future that is less about what we know and more about the capacity we can build for imagination and innovation. But we know we can't get there in stressed-out beta brain. We need skills and resources to tap into our own Innate Genius that can only be revealed through alpha and theta brain wave states. In other words, the solutions to our challenges today cannot be found outside of ourselves but rather within our 'reciprocal relationship between Imaginal Intelligence and body wisdom.' Steve Aizenstat maps a path through a frenetic and distracted world, toward connection and creativity, in this important book, The Imagination Matrix." —Carol Grojean, PhD, flow and peak performance coach; board member, Academy of Imagination; former senior director at Microsoft

"Imagination and technology have been the driving forces behind some of the most transformative innovations in human history. In this thought-provoking book, Stephen Aizenstat brilliantly explores finding your humanity within a digital world. With helpful exercises and tools to work with individuals, youth, and families, this book is a must-read for anyone who wants to understand how to harness imagination to solve some of the most pressing challenges facing our world today. Accessing imagination and living an imagination-attuned life can shape your becoming. This book will take you on a fascinating and inspiring journey of self-discovery. You will finish The Imagination Matrix with a renewed sense of hope and wonder about what is possible." —Alia Aizenstat, licensed psychotherapist, international presenter, specialist in working with technology addiction

"Not for nothing did the poet Wallace Stevens refer to the imagination as 'the necessary angel' that allows us to 'see the world again.' Steve Aizenstat's book is in that tradition; it reminds us of the transformative power of the imagination, its power to creatively produce something entirely new rather than merely reproduce what has gone before. Without such a book, the imagination is in danger of becoming extinct. This book gives the imagination the new lease on life it urgently needs, to help us understand how things might be." —Lionel Corbett, MD, author of Psyche and the Sacred, The Religious Function of the Psyche, and eight other books and edited collections; certified Jungian analyst; faculty member, Pacifica Graduate Institute

"Stephen Aizenstat's new book furthers and deepens his internationally acclaimed Dream Tending method for working with our dream life. His new book reveals that on our individual journey we are not alone. Through his guidance we learn to look more closely at our life's plot and notice where aids and mentors are very much part of the fabric of our fictions. The Imagination Matrix is in the richest sense a guidebook. And its weave successfully joins the realms of imagination, perception, self-trust, myth, history, and depth psychology into a new form—one that can in-form and trans-form individuals, assisting them in becoming more conscious of their own wisdom story." —Dennis Patrick Slattery, PhD, distinguished professor emeritus in mythological studies at Pacifica Graduate Institute; author of, most recently, The Way of Myth and The Fictions in Our Convictions

"Stephen Aizenstat surfaces the hidden gifts of the horrific and the broken. He teaches how to befriend the autonomous, living images of dream and imagination so that they can be welcomed as Soul Companions. These practices support activating the portals of imagination, liberating and illuminating healing and transformative creative energies for the regeneration of earth, soma, and soul. This vibrant volume offers training that reclaims and restores, orienting to the emerging possible. In a time when the Earth is on fire, working with the Imagination Matrix offers fresh approaches to innovate Earth-enhancing possibilities while sustaining greater resilience, courage, and inspiration for the long haul. Working with the Imagination Matrix brings fresh allies and support for the world-healing work before us." —Marna Hauk, PhD, coeditor of Vibrant Voices and Community Climate Change Education; associate director, doctoral program in Visionary Practice and Regenerative Leadership, Southwestern College and New Earth Institute

"Like the warm California beaches it was written on, The Imagination Matrix beckons us to play. Aizenstat gives voice to a lifelong journey of opening to curiosity. Through well-illustrated core concepts and exercises, he directs us toward participation with the inner life inside of us. Viva psyche!" —Gary S. Bobroff, founder of Jungian Online and JUNG Archademy

"A tender of dreams and a mender of souls, Stephen Aizenstat reimagines imagination from the playa at Burning Man to the halls of the United Nations. Delivering just what the world needs most in these times of psychological distress and planetary trauma, using his dynamic therapeutic approach, Aizenstat shows his readers how they can live an imagination-centered life and access the deep wisdom of imaginal realms, putting them in touch with rich inner resources that nourish consciousness, heal individual hearts, and inspire fresh meaning in diverse communities and identities." —Frank N. McMillan, author of Finding Jung, cofounder of Academy of Imagination

"For those interested in the future of leadership, Steve has favored us with his breakthrough treatment of the nature and role of imagination and innovation. The direction of leadership thinking has been transforming from the outdated, hierarchical 'machine model' metaphor into understanding the role of individual and collective imagination and creativity of the team. Steve has laid the completing segment of that bridge in his comprehensive program, describing new concepts such as the Imagination Matrix, Four Quadrants, the Curious Mind, and many other aspects of cultivating the deep imagination with life-changing benefits. It seems that his concept of Imaginal Intelligence is destined to match or exceed the contributions of Emotional Intelligence that preceded it. Enjoy every page." —Thomas Steding, PhD, author of Real Teams Win, coauthor of Built on Trust


"These new teachings and activities are essential in firing imagination, unlocking innate curiosity, and revealing the splendor of both the tangible world and the creative realm. Those of us living ordinary lives can find in these pages simple steps toward discovering the extraordinary just beneath the threshold of our awareness." —Randal Lea, MA, LADAC, Cumberland Heights Foundation; adjunct faculty, Southwestern College and New Earth Institute


"These pages are an illuminated manuscript in which Stephen sparks our visionary selves through sharing his lifelong harvest with generosity and wonder. He reminds us that our dreams give us direct access to the landscape of myth, magic, and possibility. This realm is replete with wisdom and healing, and spending time there makes for a richly creative, spirited life. Grounded in practical applications, Stephen shows us that the reclamation of the potency alive in the imaginal realms has a simple gateway, and that is the realm of dreams. Curiosity and openness are all we need to walk through the door, and an oracular way of seeing, being, and living is what we find on the other side. The work contained in these pages can feel like play. And yet, it is some of the most powerful medicine for a world of humans who so need to feel a deeper sense of belonging and connection. The methods herein are not only healing, they are uplifting. Gratitude to Stephen for his masterful, lifelong contribution as an emissary from the realm of dreams. Clearly, the dream figures chose well." —Karla Refoxo, The Tulku Oracle


"AI . . . ChatGPT . . . Bard . . . Stephen Aizenstat's The Imagination Matrix is more than a road map to human survival in this sometimes-frightening digital world. Through his magical storytelling skills, Aizenstat leads us on a journey, step by step, from the Dig to the Curious Mind to the Imagination Matrix, where we discover the power of being human in the technological playground in which we live. Supported with real-life events from his professional experience as a renowned psychologist and founder of Pacifica Graduate Institute, Aizenstat introduces us to our Soul Companions, who heighten our imagination and expand our creativity. We learn not to fear the machine but to develop a successful cocreative relationship with the machine, the technology. We are given lessons from the desert's Burning Man and Australia's goanna lizard. Most important, we are given the path to grow our own Innate Genius, from the inside out.
"The Imagination Matrix belongs to all of us, from elementary teachers and children to code creators to parents to corporate executives and anyone who desires a more creative and fulfilling life in our highly evolving universe." —Linda Hayes, president, Linda Hayes Consulting LLC; board member, Academy of Imagination


"Having had the pleasure of studying the skills and concepts in The Imagination Matrix with Stephen the last five years, I can say that it has been a life-changing experience. Not only has it helped me to heal deep personal wounds, but it has given me an essential daily practice that keeps my mental health on an even keel, my creativity a portal to flow from, and a deep sense of connection with Soul. The Imagination Matrix does for the imagination what his pioneering Dream Tending work did for dreams—opens up a vast inner world to access creativity, healing, and communing deeply with the collective unconscious. It reveals the true potential of the human mind and is a balm for the chaotic times we find ourselves in." —Kelly Carlin, founder, Humans on the Verge


"Reading this book, one feels the drum beat of story and the riveting energy emergent in embodied imaginal practice. The wisdom of the ancestors gathers in the experiential exercises Aizenstat skillfully provides as guides and containers. Aizenstat invites us to be vitally present with dream, story, figure, and creature. His compassionate ethos stands in deep abiding relationship with the spirit of land, rock, and house. This complements the grounded and grounding clinical skills that one may develop and thoughtfully apply to one's own engagement with the imaginal and emergent. Give this book as a gift to your practice. May it be humbly received." —Willow Young, president of the board of directors, Opus Archives