When More Is Not Better: Overcoming America's Obsession with Economic Efficiency (Hardcover)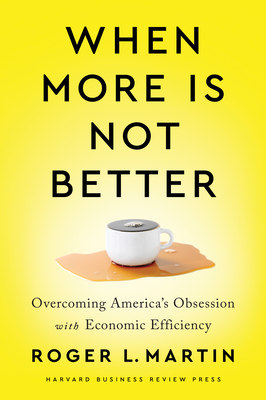 Description
---
Strategy guru and world-renowned business thinker Roger Martin starkly outlines why our American system of democratic capitalism is in danger--because it has long been viewed as a kind of "perfectible machine" of economic efficiency. We need to shift to treating it as a complex adaptive system, balancing efficiency with resilience. This book shows how.
A provocative big-picture argument from a leading business thinker.
Timely--there is currently hot debate about the future of capitalism.
An engaging, impressive synthesis of business, economic, and political thinking and context.
Compact, essayistic, and well-written.
Audience: Business leaders, thoughtful senior executives and managers, policy wonks, intelligent general readers interested in the economy, political economy, and the future of capitalism.
About the Author
---
Roger L. Martin is Professor of Strategic Management, Emeritus, at the University of Toronto's Rotman School of Management, where he served as Dean (1998-2013) and as Institute Director of the Martin Prosperity Institute (2013-2019). In 2017 Thinkers50 named him the world's number one management thinker. He has published eleven books, including Creating Great Choices with Jennifer Riel and Playing to Win with A.G. Lafley, as well as many Harvard Business Review articles. Martin is a trusted strategy adviser to the CEOs of many global companies. A Canadian from Wallenstein, Ontario, he holds an AB from Harvard College and an MBA from Harvard Business School.You can find Roger Martin at: rogerlmartin.comtwitter.com/RogerLMartin