Catrachos: Poems (Paperback)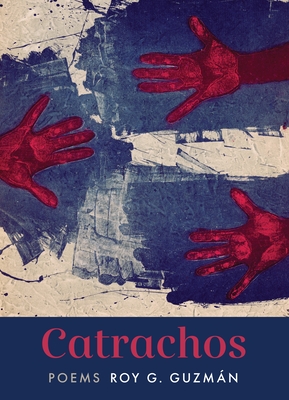 Description
---
The breathtaking debut collection from one of America's most inventive new poets

A name for the people of Honduras, Catrachos is a term of solidarity and resilience. In these unflinching, riveting poems, Roy G. Guzmán reaches across borders—between life and death and between countries—invoking the voices of the lost. Part immigration narrative, part elegy, and part queer coming-of-age story, Catrachos finds its own religion in fantastic figures such as the X-Men, pop singers, and the "Queerodactyl," which is imagined in a series of poems as a dinosaur sashaying in the shadow of an oncoming comet, insistent on surviving extinction. With exceptional energy, humor, and inventiveness, Guzmán's debut is a devastating display of lyrical and moral complexity—an introduction to an immediately captivating, urgently needed voice.
About the Author
---
Roy G. Guzmán received a 2019 fellowship from the National Endowment for the Arts and a 2017 Ruth Lilly and Dorothy Sargent Rosenberg Poetry Fellowship. Raised in Miami, Guzmán lives in Minneapolis, Minnesota.
Praise For…
---
"Who more than queer people—especially queer people of color—know what it's like to dance in the face of danger, to sashay away in the face of extinction, to love in the face of stolen liberties? . . . The emergence of a powerful new force."—O, The Oprah Magazine

"Catrachos heralds the arrival of a distinctive poetic voice; visually compelling, filled with . . . wide-ranging, and contrasting images, inventive in its language and forms, and brave for its candor and introspection."—The Rumpus

"Nothing in Catrachos is meant to be taken for granted. Poems speak candidly to each other, the subjects explored add to larger conversations about societal issues, and the language always reflects both the bravery and vulnerability of the human condition."—Heavy Feather Review

"The stunning experimentation and vivid details [in Catrachos] communicate an aching and sense of melancholy that will enthrall readers. . . . A creative and often harrowing look at society's mistreatment of queer Latinx bodies, and their stunning resilience."—The Latino Book Review

"Poems of resilience, invention, and queerness call on pop culture, immigrant stories, and an imagined dinosaur called the 'Queerodactyl' for a work of humor and heart."—Minnesota Monthly

"The idea that home is both in the here and abroad is present throughout Catrachos. . . . There are incredibly potent moments where Guzmán takes these estrangements—made legible by the fact of queer desire—and writes them into sanctuary."—The Latinx Project

"Marked by poems that are lyrical and syntactically daring. . . . [Catratchos] nods to the perseverance of excavating a queer self and giving it flight."—Library Journal

"The powerful dramatic build of Roy G. Guzmán's poems bears up an opera in forte. . . . One grown in fierce female love and engaged in an America where queerness, though still under threat and often silenced, will not stay silent unless silence speaks. In Catrachos, silence, even absence, grows loud enough to fill pages."—Heid E. Erdrich

"As the son of immigrants, as a queer man, as a poet, I've been waiting for a book like Catrachos. Endlessly inventive and sonically brilliant, the poems refuse borders. . . . Roy G. Guzmán's debut is phenomenal, necessary. It has changed and recharged me."—Eduardo C. Corral

"Catrachos is a fervent, jaw-dropping debut, the kind of blistering chronicle that absolutely could not exist before this. . . . You have read stories of leaving one land for another. You have heard stories about the difficulties of coming out to a staid family and church. But those fractured songs have never been sung this fiercely. Or this well."—Patricia Smith