The Ancient Language of Sacred Sound: The Acoustic Science of the Divine (Paperback)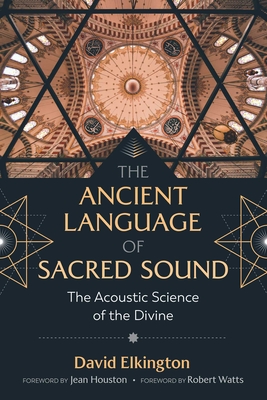 $29.99

On Our Shelves Now - Please call to confirm stock for hot titles
Description
---
Reveals the connections between the Earth's resonant frequencies, sacred sites, human consciousness, and the origins of religion

• Details how sacred sites resonate at the same frequencies as both the Earth and the alpha waves of the human brain

• Shows how human writing in its original hieroglyphic form was a direct response to the divine sound patterns of sacred sites

• Explains how ancient hero myths from around the world relate to divine acoustic science and formed the source of religion

The Earth resonates at an extremely low frequency. Known as "the Schumann Resonance," this natural rhythm of the Earth precisely corresponds with the human brain's alpha wave frequencies--the frequency at which we enter into and come out of sleep as well as the frequency of deep meditation, inspiration, and problem solving. Sound experiments reveal that sacred sites and structures like stupas, pyramids, and cathedrals also resonate at these special frequencies when activated by chanting and singing. Did our ancestors build their sacred sites according to the rhythms of the Earth?

Exploring the acoustic connections between the Earth, the human brain, and sacred spaces, David Elkington shows how humanity maintained a direct line of communication with Mother Earth and the Divine through the construction of sacred sites, such as Stonehenge, Newgrange, Machu Picchu, Chartres Cathedral, and the pyramids of both Egypt and Mexico. He reveals how human writing in its original hieroglyphic form was a direct response to the divine sound patterns of sacred sites, showing how, for example, recognizable hieroglyphs appear in sand patterns when the sacred frequencies of the Great Pyramid are activated.

Looking at ancient hero legends--those about the bringers of important knowledge or language--Elkington explains how these myths form the source of ancient religion and have a unique mythological resonance, as do the sites associated with them. The author then reveals how religion, including Christianity, is an ancient language of acoustic science given expression by the world's sacred sites and shows that power places played a profound role in the development of human civilization.
About the Author
---
David Elkington is an academic and historian, specializing in Egyptology and Egypto-Palestinian links. Known for his work on the Jordan Lead Codices--the earliest known initiatory Christian documents--he is the coauthor of The Case for the Jordan Codices. He has lectured at Oxford and Cambridge Universities and appeared on many television programs, including Forbidden History. He lives in London, England.

Jean Houston and Robert Masters are well-known pioneers of modern consciousness research and were both among the founders of the Human Potentials Movement. They also coauthored Mind Games: The Guide to Inner Space and The Varieties of Psychedelic Experience. Jean Houston is also the author of A Passion for the Possible, Godseed, and A Mythic Life. She resides in New York.
Praise For…
---
"Essential reading for those seeking an intelligent perspective on persistent cross-cultural myths and mysteries from antiquity."
— Keith M. T. Hearne, Ph.D., psychologist, composer, and writer

"An eye-opening and mind-opening journey, with a completely new angle on the most intriguing of ancient mysteries, that will provide a major talking point for many years to come."
— Lynn Picknett & Clive Prince, authors of When God Had a Wife

"David Elkington has uncovered an important method by which we can literally listen to the past."
— John Matthews, New York Times bestselling author of books on myth, faery, the Arthurian legends & Gr

"An intriguing case for a far more interesting history than we currently know, while breaking new ground in ancient knowledge of the hidden patterns of the universe."
— Laura Lee, director of research and outreach at the Cuyamungue Institute

"This book is a touchstone for rediscovering some of the deepest mysteries of antiquity. Mystical sciences behind all religions are a revelation that will cause a seismic shift in our perception of the wisdom of the Ancients."
— Paul Broadhurst, coauthor of The Sun and the Serpent

"David Elkington's theories could be a major development in our understanding of the Ancient Mysteries."
— Adrian Gilbert, coauthor of The Orion Mystery and The Mayan Prophecies

"The Ancient Language of Sacred Sound is a most fascinating book of the history of religion and the source of Christianity in antiquity. As a practitioner and instructor of ecstatic or shamanic trance, I know that we can again experience in trance the vibrations of the sacred places and the spirits emanating from these places."
— Nicholas E. Brink, Ph.D., author of Ecstatic Soul Retrieval

"In The Ancient Language of Sacred Sound: The Acoutic Science of the Divine, David Elkington has put forward a truly fascinating work about the role that sound plays in our spiritual experiences. This is a work of deep scholarship and intense study of locations around the world which are considered sacred sites to those who built them. Far from considering humanity's ancient ancestors as primitive, this book highlights the absolutely breathtaking precision and purpose in the design of ancient monuments such as the pyramids at Giza, gothic cathedrals in Europe, and Newgrange in Ireland."
— Zak Kotlow, Musing Mystical