Mapa de oración para mujeres: Un diario creativo (Spiral bound)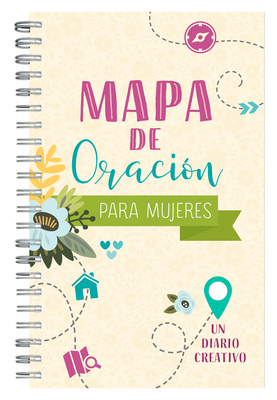 $8.99

Available from our Distributors - Usually arrives in-store in 2-7 days
Description
---
What Does Prayer Look Like? . . .
Find out in The Prayer Map for Women. 

This engaging prayer journal is a fun and creative way for you to more fully experience the power of prayer. Each page features a lovely 2-color design that guides you to write out specific thoughts, ideas, and lists. . .which then creates a specific "map" for you to follow as you talk to God. Each map includes a spot to record the date, so you can look back on your prayers and see how God has worked in your life. The Prayer Map for Women will not only encourage you to spend time talking with God about the things that matter most. . .it will also help you build a healthy spiritual habit of continual prayer for life!
 
¿Cómo es la oración?...
Descúbrelo en Mapa de oración para mujeres
 
Este atractivo diario de oración es una forma divertida y creativa de experimentar el poder de la oración de un modo más pleno. Cada página presenta un encantador diseño a dos colores que te guía a anotar pensamientos, ideas y listas específicos... que, a su vez, crean un "mapa" detallado que seguir al hablar con Dios. Cada mapa incluye un lugar para registrar la fecha, de manera que puedas repasar tus oraciones y ver cómo ha obrado Dios en tu vida. Mapa de oración paramujeres no solo te alentará a pasar tiempo hablando con Dios sobre las cosas que más importan..., sino que también te ayudará a fomentar un hábito espiritual saludable de oración continua para toda la vida.
 
About the Author
---
Barbour Publishing is a leading Christian book publisher offering bestselling books featuring exceptional value, biblical encouragement, and the highest quality. Barbour is the home of New York Times Bestselling author Wanda E. Brunstetter along with well-known fiction authors Gilbert Morris, Olivia Newport, Michelle Griep and many others. If your interest is Christian Living or Bible Reference, you'll find excellent titles by bestselling authors Josh McDowell, Jonathan McKee, Debora Coty, and Stephen M. Miller's The Complete Guide to the Bible.   Barbour also publishes the top classic devotionals God Calling by A.J. Russell, and Come Away My Beloved by Frances J. Roberts. With inspirational Christian books available in all genres--fiction for adults and children, Bible Promise books, devotionals, Bibles, Bible reference, puzzle books, and gift books there's something for everyone to enjoy.