When AI Rules the World: China, the U.S., and the Race to Control a Smart Planet (Hardcover)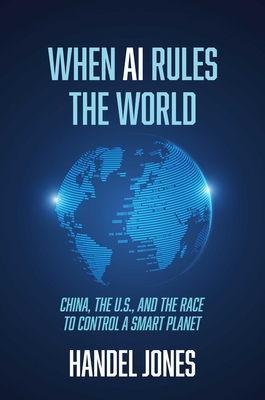 Description
---
As China rises to true superpower status, the United States must take immediate action to catch up in AI capabilities—or face falling disastrously behind technologically, economically, and militarily.

Over the past decade, China has quietly and methodically moved into a near-leadership position in artificial intelligence technologies on a global scale. Meanwhile, the United States has responded ineffectively, weighed down by politics, bureaucracy, and an absence of clear strategy.

In the near future, wars will be fought not over land, but over data. Machines will quickly discover individualized treatments for diseases, and with the help of virtual reality, AI will inspect buildings that have not yet been built. With the rising interest in these technologies by both China and the U.S., who will emerge as the victor of this technological race?

When AI Rules the World is an investigation and call to action into AI technologies for a nation that does not yet comprehend the full gravity of the AI revolution. The United States is losing the race for AI dominance, and the stakes couldn't be higher.
About the Author
---
Handel Jones is the author of Chinamerica: The Uneasy Partnership that Will Change the World. He is the founder of the market and strategy consulting and analysis company, International Business Strategies in Los Gatos, CA, and has an in-depth understanding of China-U.S. relations when it comes to business and technology. An expert in his field, Jones shares his expertise on AI technology and China's strategies for innovation in his work, When AI Rules the World.
Praise For…
---
"I could not but help thinking that if this analysis of how and why America is falling behind China in the emerging AI era makes sense, what can we say about India's own meagre efforts in this area? This is what makes this book required reading for India's policymakers."
— India Business Standard

"In When AI Rules the World, Handel Jones sharpens the growing divergence between the US's and China's AI strategy. Through a comprehensive comparison of both countries, he clearly shows how AI is and will continue to have a disruptive impact on many sectors including military, industry, healthcare, AR/VR and connectivity. As a whole, the book paints a clarifying picture of how AI is acting as catalyst for a growing geo-political divide. A divide where China might not be leading yet on all accounts, but is progressing at a much faster pace, driven by huge amounts of data and large-scale investments in R&D. By putting innovations from all these sectors together, the book nicely outlines how we are in the middle of a geo-political race for AI technology, similar to the space race in the 1960s and beyond. However, this time AI is the rocket and data is the rocket fuel. The book's call for action is crucial. The disruptive nature of AI calls for national AI strategies, comprising large investments in R&D from the software level up to semiconductors and components, a vision I very much share."
— Dr. Luc Van den hove, President and CEO, imec

"The world continues to be transformed by new software operating ever more sophisticated computers. But we have reached an inflection point in the technology's impact with Artificial Intelligence software that increasingly impacts computers' ability to emulate some key aspects of human intelligence. This technology has enormous potential impact in all fields of human activity. Mr. Handel Jones in his remarkable new book When AI Rules the World brilliantly describes the technology and its development but more importantly the global and societal implications for the future when advanced computers will largely replace humans in many activities. This book is not to be missed."
— Dr. Henry Kressel, Author, Technologist, Inventor, and long-term Senior Investing Partner at Warburg Pincus private equity firm

"AI is becoming a key part of our daily lives and we need to fully understand what the implications are. The book When AI Rules The World gives a deep understanding of the opportunities and threats of AI including the activities in China and is a must read book for professionals."
— Nicolas Dufourcq, CEO, Bpifrance

"This is the century of AI. At the end of this century all industries, including automotive, will be different. If you want to know the opportunities and threats of AI, if you want to understand how AI will rule the world and define the new political balance of the world, then read this book."
— Benedetto Vigna, CEO, Ferrari

"Despite the recent Russian aggression in the Ukraine, most forward geopolitical thinkers recognize that China possesses the greatest challenge to the United States this century. Mr. Handel Jones, a leading technologist and expert on China, raises the alarm on China's alarming lead in Artificial Intelligence technology. Jones's work, in simple terms, describes a world not far in the future, dominated by AI. He explores a dystopian picture of what Chinese dominance in this arena could mean, as well as a prescription on how the U.S. could retake the lead in these technologies through the combination of private industry and governmental leadership. When AI Rules The World is a must read for members of the U.S. Congress, investors, and Americans concerned about technological advancements in China that threaten the United States' role as the world's leading economic and military superpower."
— Stephen A Kaplan, Retired Co-founder Oaktree Capital Management, Chairman of Nalpak Capital, Chairman DC United, and Co-owner of Swansea City Football Club

"AI not only impacts our individual daily lives, but is also reshaping our global society. The book When AI Rules the World is an insightful read that provides thought provoking details on the potential impact that advancements in AI will have on our future society and culture."
— Dr. Anirudh Devgan, President and Chief Executive Officer, Cadence Design Systems, Inc.

"I could not but help thinking that if this analysis of how and why America is falling behind China in the emerging AI era makes sense, what can we say about India's own meagre efforts in this area? This is what makes this book required reading for India's policymakers."
— India Business Standard

"Drawing upon his extensive experience in semiconductors, technology and China, Mr. Handel Jones creates a fact-supported narrative to make the case for artificial intelligence as the game changer for U.S. competition with China. Without a national initiative comparable to the post-Sputnik space race to the moon, he argues that the U.S. risks becoming an also-ran in advanced medical, automotive, military, education, and communication technologies. Mr. Jones provides a compelling argument for a broad U.S.-based pursuit of the AI-enabled technologies and applications."
— Walden C. Rhines, CEO Emeritus, Mentor, a Siemens Business; CEO, Cornami, Inc.

"AI is already transforming the world – it's moved from science fiction to something that is deeply reshaping all industries and the way we live and work. Handel Jones put together a compelling historical and comparative study of AI applications and policy in the US and China, explaining differences, successes and areas in need of a rethink. His extensive experience in both countries and technology enables him to outline a clear set of recommendations, contributing to the ongoing debate about how to drive technology leadership for the 21st century. When AI Rules the World is a must-read in 2022."
— Jean-Marc Chery, President & CEO, STMicroelectronics