An Asian American A to Z: A Children's Guide to Our History (Hardcover)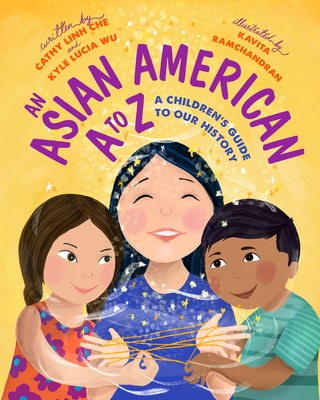 Description
---
A comprehensive and spirited exploration of Asian American history--its movements, cultures, and key figures--beautifully illustrated and compellingly told for readers of all ages.
Co-authors Cathy Linh Che and Kyle Lucia Wu take us on a journey through stories of celebration and resistance: the Third World Liberation Front, the Muslim Ban, Japanese American incarceration camps, Padma Lakshmi, Rashida Tlaib, Sunisa Lee, and more. It is a history of struggle, but also one of great triumph, brought to life with colorful and dynamic illustrations by Kavita Ramchandran.
Written by the directors of Kundiman--an organization dedicated to nurturing Asian American writers--
An Asian American A to Z
is a book for children of all backgrounds and a vital resource for tomorrow's organizers. Asian American identity formation is expansive yet under-taught, and this book is a necessary intervention that will ground readers in joy, history, and solidarity.
About the Author
---
Cathy Linh Che is the daughter of Vietnam War refugees. She is the author of Split, winner of the Kundiman Poetry Prize, the Norma Farber First Book Award from the Poetry Society of America, and the Best Poetry Book Award from the Association of Asian American Studies. Her work has been published in New Republic, Nation, McSweeney's, and Poetry. She serves as Executive Director at Kundiman and lives on the traditional lands of the Lenape people. Kyle Lucia Wu was born and raised in a small town in New Jersey. She is the author of Win Me Something, an NPR Best Book of the Year. A former Asian American Writers' Workshop Margins Fellow, her work has been published in Literary Hub, Joyland Magazine, Catapult, and BOMB Magazine. She is the Managing Director of Kundiman and teaches creative writing at Fordham University and The New School.Kavita Ramchandran is a professional graphic designer who made her debut as a self-taught picture book illustrator withDancing in Thatha's Footsteps (Yali Books, 2021).