Never Silent: ACT UP and My Life in Activism (Hardcover)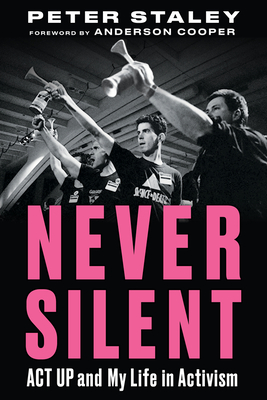 Description
---
"Never Silent is a gorgeous book . . . Peter Staley has written an electrifying primer for anyone who's thinking/worrying/wondering about how to change/save the world." —Tony Kushner, Pulitzer Prize–winning playwright of Angels in America

2022 Lambda Literary Award Finalist

The previously untold stories of the life of the leading subject in David France's How To Survive A Plague, Peter Staley, including his continuing activism

In 1987, somebody shoved a flyer into the hand of Peter Staley: massive AIDS demonstration, it announced. After four years on Wall Street as a closeted gay man, Staley was familiar with the homophobia common on trading floors. He also knew that he was not beyond the reach of HIV, having recently been diagnosed with AIDS-Related Complex.

A week after the protest, Staley found his way to a packed meeting of the AIDS Coalition To Unleash Power—ACT UP—in the West Village. It would prove to be the best decision he ever made. ACT UP would change the course of AIDS, pressuring the National Institutes of Health, the FDA, and three administrations to finally respond with research that ultimately saved millions of lives.

Staley, a shrewd strategist with nerves of steel, organized some of the group's most spectacular actions, from shutting down trading on the floor of the New York Stock Exchange to putting a giant condom over the house of Senator Jesse Helms. Never Silent is the inside story of what brought Staley to ACT UP and the explosive and sometimes painful years to follow—years filled with triumph, humiliation, joy, loss, and persistence.

Never Silent is guaranteed to inspire the activist within all of us. 
About the Author
---
Peter Staley is one of the leading AIDS and LGBTQ rights activists of his generation, playing a critical role in some of ACT UP's best-known actions, and then cofounding TAG and PrEP4All. Today Staley speaks to audiences worldwide on grassroots activism, and is the lead plaintiff against multiple pharmaceutical companies for anticompetitive practices in Staley v. Gilead. Anderson Cooper is the anchor of CNN's Anderson Cooper 360°. He lives in New York.
Praise For…
---
"For decades, Peter Staley's name has been synonymous with brave, determined activism on behalf of the LGBTQ community. Now, for the first time, he's telling the story of his journey from closeted Wall Street bond trader to political powerhouse. Whether you're looking for a front-row seat to history, a greater understanding of how change happens in America, or simply a book that's so candid, funny, and inspiring you won't be able to put it down, Never Silent is a timely must-read." —Hillary Rodham Clinton 

"Never Silent is a gorgeous book, or rather it's several gorgeous books all at once. It's the clear-eyed, at times shockingly honest, very funny, wildly sexy, and enormously moving memoir of one of the most important activists of our times. It's an incisive, precise, and revelatory insider's history of ACT UP and of the protean role the group played in reframing the global medical, social, and political response to AIDS. And, with his remarkable combination of radical daring, intellectual rigor and an ethically grounded pragmatism; with his capacity for joy, even in the midst of tragedy; with his breathtaking confidence that justice will come for those who fight for it, Peter Staley has written an electrifying primer for anyone who's thinking/worrying/wondering about how to change/save the world." —Tony Kushner, Pulitzer Prize–winning playwright of Angels in America 
 

"Never Silent is a reminder of the power of organizing to create change, a testament to fighting for what you know to be true even when you might stand alone, and a story that will inspire future activists to keep bending that moral arc toward justice. Staley's journey within a life-saving movement is simply a must-read." —DeRay Mckesson, cofounder of Campaign Zero and author of On the Other Side of Freedom 

"In this moving and compassionate book, one of the heroes of our recent history looks back on the brilliant brashness of his youth with a wisdom won through unexpected survival. Gay men of my generation owe ACT UP our lives; with his riveting memoir, Peter Staley offers a vital account of how activism transformed fear, desperation, and rage into power." —Garth Greenwell, author of Cleanness and What Belongs to You 
 

"Forty years after the onset of the pandemic, Peter Staley's book is an important addition to the growing canon of AIDS memoirs. As a veteran organizer of many protests over the decades, I particularly enjoyed learning the intricate back stories of some of ACT UP New York's most celebrated and controversial exploits. From civil disobedience with radical activists to private dinners with the nation's leading HIV researchers and scientists, Peter shares remarkable memories from his bold, complicated, and passionate life." —Cleve Jones, author of When We Rise: My Life in the Movement 
 

"Staley is the best kind of guide to this history, particularly in relating the science behind AIDS treatment in common terms. Equally charming and even-handed, this is one story on the queer underdogs who roused a country from its indifference that should enter the AIDS canon." — The Washington Blade Online

"A cleareyed, hard-earned, even affectionate recollection of a valiant fight against AIDS and bigotry." — Kirkus Reviews

"Should be required reading for anyone who teaches social movements, public health history, the history of HIV and AIDS, or late 20th century American history." — Nursing Clio

"A fascinating biography of a life lived in and through activism." —Dave, Goodreads

"A moving portrait." — Edge Media Network