Lame Fate | Ugly Swans (Rediscovered Classics #36) (Paperback)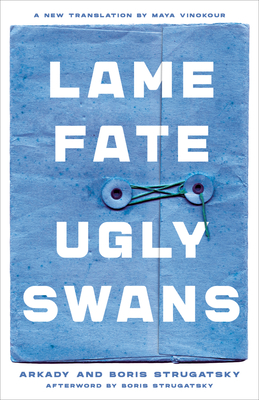 $18.99

Available from our Distributors - Usually arrives in-store in 2-7 days
Other Books in Series
This is book number 36 in the Rediscovered Classics series.
Description
---
Today, Russian authors Arkady and Boris Strugatsky are counted among the best science fiction writers of the twentieth century, but their relationship with the late-Soviet literary establishment was often fraught. By the late 1960s, publishers had become increasingly reluctant to release their works, but their novels and short stories, retyped by hand, circulated widely through unofficial channels within the Soviet Union and occasionally turned up abroad in unauthorized translation.

The nested novels Ugly Swans and Lame Fate offer insight into this period of enforced silence. Never before translated into English, Lame Fate tells the story of middle-aged author Felix Sorokin, who is asked by the Soviet Writers' Union to submit a writing sample to a new computer program that will scientifically evaluate its "objective value" as a literary work. Sorokin must choose whether to present something establishment- approved or risk sharing his unpublished masterpiece.
Sorokin's masterwork is Ugly Swans, previously published in English as a standalone work but presented here in an authoritative new translation. Its hero, disgraced literary celebrity Victor Banev, returns to his hometown to find it haunted by the mysterious "clammies"—black-masked outcasts with supernatural talents who terrify the town's adult population but enthrall its teenagers, including Banev's own daughter.

Together, Lame Fate and Ugly Swans illuminate some of the Strugatskys' favorite themes—the (im)possibility of political progress, the role of the individual in society, the nature of honor and courage, and the enduring value of art—in consummately entertaining fashion. By turns chilling, uproarious, and moving, these intertwining stories are sure to delight readers from all walks of life.
About the Author
---
Arkady and Boris Strugatsky were famous and popular Russian writers of science fiction, with more than twenty-five novels and novellas to their names, including The Inhabited Island, The Doomed City, Hard to Be a God, Monday Starts on Saturday, The Snail on the Slope, and Roadside Picnic. Their books have been widely translated and made into a number of films. 

Maya Vinokour is an award-winning translator and assistant professor in the department of Russian and Slavic studies at NYU. Her translations have appeared in the New Yorker, Fence, Columbia Journal, and World Literature Today.
Praise For…
---
"Founded, like the best of their work, on a tantalizingly glimpsed hypothesis rather than reams of science-fiction explanations." —Kirkus Reviews on the previous English translation of Ugly Swans