American Barbecue Sauces: Marinades, Rubs, and More from the South and Beyond (Paperback)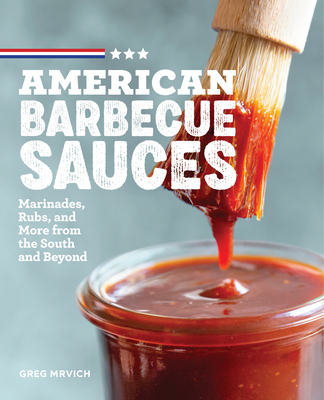 $9.99

Available from our Distributors - Usually arrives in-store in 2-7 days
Description
---
Kick up your cookout—barbecue sauces, marinades, and more from across the country
Every barbecue master knows—the secret's in the sauce.
American Barbecue Sauces
is packed with savory recipes for bastes, glazes, mops, wet and dry rubs, marinades, condiments—and of course, sauces—from all over the United States. Fire up the grill!
From Central Texas to Chicago, and Memphis to the Southwest and beyond, get to know America's barbecue belt with these explosively flavorful sauces and seasonings. Complete with classic favorites, creative concoctions, and a list of online resources that offer even more mouthwatering recipes, this book has everything you need to take your taste buds on a delicious road trip across the country.
This saucy book includes:
Barbecue basics—Discover details about American barbecue, including the big four BBQ regions, the five mother sauces, lesser-known BBQ styles, and more.
Marinades, mops, and more—Explore other ways to heat up your barbecue game, with recipes like Cowboy Coffee Beef Rub, Basic Poultry Brine, and Old-Fashioned Glaze.
Essential equipment—Convenient lists for stocking your kitchen include pantry items, necessary tools like basting brushes, and nice-to-haves like disposable gloves.
Make your cookout really cook with tasty barbecue sauce recipes from the heart of America. Let's get cooking!
About the Author
---
GREG MRVICH is the author of Sous Vide Barbecue: Delicious Recipes and Precision Techniques That Guarantee Smoky, Fall-Off-the-Bone BBQ Every Time and the host of Ballistic BBQ, a YouTube channel with over 275,000 subscribers and 42 million views. He lives with his wife and son in San Diego.
Praise For…
---
"I've followed Ballistic BBQ for years and have always loved how deep Greg gets into each ingredient. He knows his stuff. I've been drooling since page three and plan to be mixing up the Herbed Steak Butter recipe this weekend!"—Bill West, founder of BarbecueTricks.com and author of Smoking Meat 101

"YouTube's barbecue bad boy Greg Mrvich (of Ballistic Barbecue fame) takes you on a road trip exploring the regional flavors that create the great diversity in the world of barbecue and grilling. Greg's amazing book gives you the tools you need to turn your barbecue into something special by seasoning, basting, mopping, and glazing it during the cook, then finishing it with fantastic sauces. This books is a must for the backyard pitmaster's bookshelf!"—John Setzler, Man Cave Meals

"I am so ready to start making even better BBQ. Greg has done a great job putting together some fantastic, easy-to-follow recipes. If an old veteran of the pit can improve his game, I know that you will benefit from his great recipes also."—Chef Johnny, Texas Style Cuisine