Killingly (Hardcover)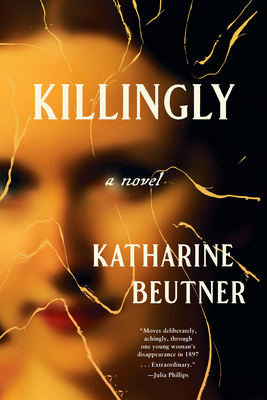 June 2023 Indie Next List
---
"From the very first page, there's this amazing creepy vibe that envelops the reader. Katharine Beutner has written a stunning historical mystery, based on a true missing person case. Killingly hits all the high notes!"
— Jayne Rowsam, Mystery to Me, Madison, WI
Description
---
Based on the unsolved real-life disappearance of a Mount Holyoke student in 1897—a haunting novel of intrigue, longing, and terror, perfect for fans of Donna Tartt and Sarah Waters

Massachusetts, 1897: Bertha Mellish, "the most peculiar, quiet, reserved girl" at Mount Holyoke College, is missing.

As a search team dredges the pond where Bertha might have drowned, her panicked father and sister arrive desperate to find some clue to her fate or state of mind. Bertha's best friend, Agnes, a scholarly loner studying medicine, might know the truth, but she is being unhelpfully tightlipped, inciting the suspicions of Bertha's family, her classmates, and the private investigator hired by the Mellish family doctor. As secrets from Agnes's and Bertha's lives come to light, so do the competing agendas driving each person who is searching for Bertha.

Where did Bertha go? Who would want to hurt her? And could she still be alive?

Edmund White Award–winning author Katharine Beutner takes a real-life unsolved mystery and crafts it into an unforgettable historical portrait of academia, family trauma, and the risks faced by women who dared to pursue unconventional paths at the end of the 19th century.
About the Author
---
Katharine Beutner is an associate professor of English at the University of Wisconsin-Milwaukee; previously, she taught in Ohio and Hawai`i. She earned a BA in Classical Studies at Smith College and an MA in English (creative writing) and a PhD in English literature at the University of Texas at Austin. Her first novel, Alcestis, won the Edmund White Debut Fiction Award and was a finalist for other awards, including the Lambda Literary Association's Lesbian Debut Fiction Award. Her writing has appeared in Tinfish, The Los Angeles Review of Books, Public Books, The Toast, TriQuarterly, Humanities, and other publications. Recently, she received an Ohio Arts Council Individual Excellence Award. She is the editor in chief of The Dodge, a magazine of eco-writing and translation.
Praise For…
---
Praise for Killingly

A New York Times Book Review, Minneapolis Star-Tribune, and CrimeReads Recommended Read for Summer
CrimeReads Best Historical Fiction of 2023 (So Far)
An Amazon Best Book of the Month - Mystery/Thriller
An Apple Best Book of the Month
A Sunday Times (UK) Book of the Month
CrimeReads Most Anticipated Crime Fiction of Summer 2023
An ABA Indie Next Pick for June 2023

"Atmospheric . . . It's worth sticking with this febrile slow-burner for gothic atmosphere, great period detail, and a genuine shock at the end."
—The Guardian

"If gilded-age true-crime campus novels are your itch, Killingly will scratch it and then some. Katharine Beutner's characters—some drawn from history and some wholly invented—are finely rendered and complex, just like the world she's put them in. Her meticulous research sings from the page. I can't wait to read whatever she writes next." 
—emily m. danforth, author of Plain Bad Heroines

"Like Margaret Atwood's Alias Grace, Killingly is an evocative novel crafted from an actual historical mystery where, according to Beutner, the subversive elements of a 19th-century women's college are 'thoroughly intertwined with oppression.'"
—Carole E. Barrowman, The Minneapolis Star Tribune

"Beutner uses [Bertha Melish's] disappearance as a wider set-piece to investigate the nature of those who stand apart from the crowd, and are punished for their independence."
—CrimeReads

"Almost all the characters guard secrets of their own, secrets that Beutner exposes one by one as she skillfully stretches out the tension. Although readers may guess at aspects of the plot, not until the end of the book will they be certain of all the details and motivations."
—Histrorical Novel Society

"Beutner is masterful at depicting the intrigue and innuendo of a women's college. With perfect pacing, she drops casual revelations that grow increasingly shocking as the pages turn."
—The Akron Beacon Journal

"Killingly moves deliberately, achingly, through one young woman's disappearance in 1897. Out of the real-life facts of the case, Katharine Beutner makes extraordinary fiction, pushing against the limits of her characters' situations and propelling us to the heights of their ambitions. Beutner's novel is able to discover an answer to Bertha Mellish's mystery. Now, more than ever, we need to know the truth this story reveals."
—Julia Phillips, author of National Book Award Finalist Disappearing Earth

"Katharine Beutner has spun a lost scrap of history into a campus mystery novel set in the late 1800s, when an elite women's college is consumed by the search for a missing student. Gossip and clues to her whereabouts—or her death—fester with accusation and suspicion. In their longing to find the beloved young woman, her best friend Agnes and her older sister Florence must each grapple with their own dangerous secrets. A story of women who defy strict rules, Killingly is a gripping novel of intrigue and surprising twists."
—Kate Manning, author of My Notorious Life

"This is a superb novel, suffused with dread, riddled with covert motivations and desires, reckoning with painful secrets, artfully rendering the myriad facets of this mysterious case while bearing witness to the sacrifices many women have made to live—and die—authentically."
—Elizabeth McKenzie, author of The Dog of the North and The Portable Veblen

"SARAH WATERS AND DONNA TARTT SQUAD, BUCKLE UP: Killingly, the latest from Katharine Beutner, is hitting the Plain Bad Heroines place in my heart again."
—Autostraddle

"Startling."
—WAMC The Roundtable

"The storyline will keep you guessing and engaged as it also deals with issues still in the news today. I predict this mystery will be in a lot of beach bags this summer."
—The Enterprise (Cape Cod)

"Beutner keeps us on the edge of our seats as she unravels their tangle of secrets and lies."
—New Books Network


Praise for Katharine Beutner

Winner of the Edmund White Debut Fiction Award for Alcestis
Finalist for Lambda Literary Association's Debut Lesbian Fiction Award for Alcestis
Winner of Ohio Arts Council's Individual Excellence Award