Spy Ships: One Hundred Years of Intelligence Collection by Ships and Submarines (Hardcover)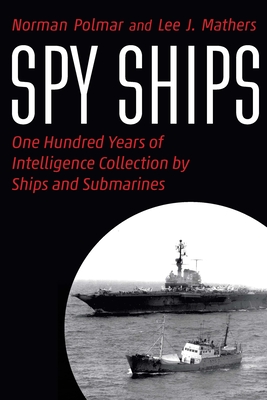 $34.95

Available from our Distributors - Usually arrives in-store in 2-7 days
Description
---
Almost from the first days of seafaring, men have used ships for "spying" and intelligence collection. Since early in the twentieth century, with the technological advancements of radio and radar, the U.S. Navy and other government agencies and many other navies have used increasingly specialized ships and submarines to ferret out the secrets of other nations. The United States and the Soviet Union/Russia have been the leaders in those efforts, especially during the forty-five years of the Cold War. But, as Norman Polmar and Lee J. Mathers reveal, so has China, which has become a major maritime power in the twenty-first century, with special interests in the South China Sea and with increasing hostility toward the United States.

Through extensive, meticulous research and through the lens of such notorious spy ship events as the Israeli attack on the USS Liberty, the North Korean capture of the USS Pueblo, and the U.S. Central Intelligence Agency's success in clandestinely salvaging part of a Soviet submarine with the Hughes Glomar Explorer, Spy Ships is a fascinating and valuable resource for understanding maritime intelligence collection and what we have learned from it.
 
About the Author
---
Norman Polmar is an analyst and consultant specializing in the naval, aviation, and intelligence fields. He has been an adviser on naval issues to three U.S. senators, the speaker of the House of Representatives, and three secretaries of the U.S. Navy, as well as to the leadership of Australian, Chinese, and Israeli navies. Polmar is the author or coauthor or more than fifty books, including Cold War Submarines: The Design and Construction of U.S. and Soviet Submarines, 1945–2001 with coauthor K. J. Moore (Potomac, 2005) and The Enola Gay: The B-29 That Dropped the Atomic Bomb on Hiroshima (Potomac, 2004).

Lee J. Mathers was on active duty with the Navy from 1967 to 1978 as a surface warfare officer with an intelligence subspecialty. He made two deployments to Vietnam, including a one-year in-country tour. He is the coauthor with Norman Polmar of Opening the Great Depths: The Bathyscaph Trieste and Pioneers of Undersea Exploration.
Praise For…
---
"The release of this book creates high expectations. It is subject matter with a clear gap in the historical record and now a distinguished naval expert attempts to fill the void. . . . Readers will discover that the high expectations are well met."—D. Colt Denfeld, Journal of America's Military Past

"Spy Ships by Norman Polmar and Lee Mathers is another authoritative, comprehensive, and professional narrative that one expects from these authors. . . . Spy Ships fills a gap in our understanding of the importance of intelligence collection in naval operations. This book is a welcome edition in my reference library. BZ!"—Capt. John A. Rodgaard, U.S. Navy (Ret.), author of Tailships: Hunting Soviets with a Microphone