KGB Man: The Cold War's Most Notorious Soviet Agent and the First to be Exchanged at the Bridge of Spies (Hardcover)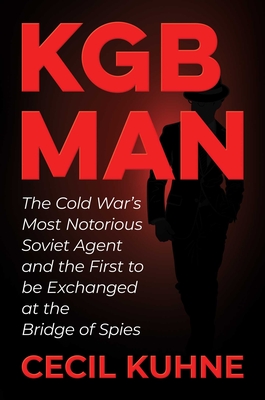 $30.00

Available from our Distributors - Usually arrives in-store in 2-7 days
Description
---
A thin, balding, and reclusive middle-aged Russian by the name of Rudolf Ivanovich Abel was one of the Soviet Union's most renowned spies during the Cold War of the 1950s…until his cover was blown by an incompetent colleague who wanted to defect to the United States. This is the full account of Abel's espionage work, his dramatic apprehension, his eventual conviction and its affirmation by the United States Supreme Court, and finally, his surprising release back to Russia.

Rudolf Ivanovich Abel ran KGB operations in the United States for nine years during the Cold War of the 1950s, until one day his true identity was revealed by a lazy, hard-drinking, womanizing colleague who decided to defect to the United States before he was sent back to Russia—and presumably his death—for incompetence in the field.

As the authorities hunted down Abel, the FBI had in hand his tools of trade—hollowed-out bolts and coins used to send tiny coded messages and photographs back and forth to the Soviet Union—but little else in the way of hard leads. After Abel was located, his modest hotel in Manhattan was staked out by the FBI for over a month before he was eventually arrested and tried for espionage.

After his conviction, Abel appealed his case to the Second Court of Appeals, where he argued that the search and seizure of his hotel room was unconstitutional because they were made without a warrant. His conviction was affirmed, and the case proceeded to the Supreme Court, which was sharply divided.

The cliffhanger facing Abel for the next several years was whether he would face the electric chair, remain in prison for the rest of his life, or be exchanged for an American spy held by the Russians. His fate remained in the balance.
About the Author
---
Cecil Kuhne is a litigator with one of the world's largest law firms and has published twenty books with the American Bar Association, including Business Bribes: Corporate Corruption and the Courts, dealing with the seamy world of corporate payoffs in this country and abroad. The author has also written and edited eighteen other books, dealing primarily with adventure travel.