The Third Mrs. Galway (Hardcover)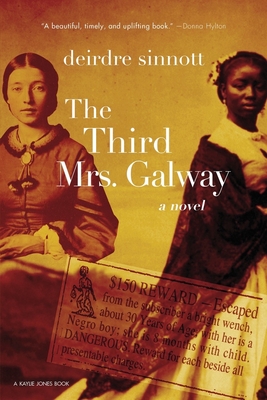 $41.95

Available from our Distributors - Usually arrives in-store in 2-7 days
Description
---
Antislavery agitation is rocking Utica in 1835 when a young bride discovers an enslaved family hiding in her shed, setting in motion the exhumation of long-buried family secrets.
In this eloquent debut, a diverse cast of characters embodies the political, class, and racial upheavals of its time and milieu, and does it all in living local color... A] powerful look at the prologue to Emancipation.
--
Kirkus Reviews
Potent...The book's descriptions are brutal, urgent, and realistic...In the intricate, relationship-based historical novel The Third Mrs. Galway, characters question civil disobedience and abolitionism; they also learn to be compassionate.
--Foreword Reviews
Utica-area native and local historian Sinnott's deep knowledge of the abolition movement in upstate New York informs this nuanced portrayal of white ambivalence and anti-slavery activism.
--Booklist
Sinnott offers a rich history of the burgeoning abolitionist movement.
--Publishers Weekly
Sinnott's exciting novel looks at Northern white indifference to America's original sin. By exposing the painful past she has created a beautiful, timely, and uplifting book with unforgettable characters who kept me guessing.
--Donna Hylton, author of A Little Piece of Light: A Memoir of Hope, Prison, and a Life Unbound
Deirdre Sinnott is an extraordinary writer whose eye misses nothing. This compelling story is a must read--and it couldn't be more timely.
--David Black, award-winning journalist, novelist, screenwriter, and producer
A fast-paced excursion into Utica, New York, in the mid-1830s, The Third Mrs. Galway captures the true-life anti-abolition riots against the New York Anti-Slavery Society. With lively and enjoyable prose, Deirdre Sinnott brings the story of emancipation alive.
--Paul Stewart, cofounder of the Underground Railroad History Project
The Third Mrs. Galway offers readers romance, adventure, and poignant family drama while also providing insight into the complexity of antislavery attitudes before the Civil War. This is a historical page-turner that both enlightens and entertains.
--Barbara Weisberg, author of Talking to the Dead: Kate and Maggie Fox and the Rise of Spiritualism
With historical accuracy, Deirdre Sinnott brings to life the surprising drama of freedom-seekers and slave-catchers in Oneida County. This book animates the history of the region and the larger Underground Railroad phenomenon in a way that street signs and public lectures cannot.
--Jan DeAmicis, cochair of the Oneida County Freedom Trail Commission
It's 1835 in Utica, New York, and newlywed Helen Galway discovers a secret: two people who have escaped enslavement are hiding in the shack behind her husband's house. Suddenly, she is at the center of the era's greatest moral dilemma: Should she be a "good wife" and report the fugitives? Or will she defy convention and come to their aid?
Within her home, Helen is haunted by the previous Mrs. Galway, recently deceased but still an oppressive presence. Her husband, injured by a drunken tumble off his horse, is assisted by a doctor of questionable ambitions who keeps a close eye on Helen. In charge of all things domestic is Maggie--formerly enslaved by the Galway family and freed when emancipation came to New York eight years earlier.
Abolitionists arriving in Utica to found the New York State Anti-Slavery Society are accused by the local papers of being traitors to the Constitution. Everyone faces dangerous choices as they navigate this intensely heated personal and political landscape.
About the Author
---
Deirdre Sinnott is an author, researcher, and activist for social change. She grew up in the region of Utica, New York, and graduated from Syracuse University. Sinnott speaks nationally about the role of Central New York's residents in the abolition of slavery. She was the originator of Utica's Abolition History Day Celebration and has directed two award-winning documentaries on mass incarceration/prison issues. She facilitated the program Resisting the New Jim Crow at the National Abolition Hall of Fame and Museum. Sinnott's writing has appeared in newspapers, two anthologies, literary journals, and in various online resources. The Third Mrs. Galway is her first novel. She is a historical consultant for the Fort Stanwix Underground Railroad History Project, funded by the National Park Service.